Are you knee-deep in the whirlwind of wedding planning, trying to balance the magical moments with the stress of juggling it all? Fear not, dear bride and groom-to-be! We're here to sprinkle some laughter on your big day preparations with a dash of humor. Get ready to chuckle, giggle, and maybe even snort as we dive into the world of hilarious wedding memes that will lighten the mood and relieve some planning pressure. So take a break from finalizing that seating chart or taste-testing yet another cake flavor—it's time for some comic relief!
Why have wedding memes become so popular, and how can they brighten up your special day?
They brighten the mood: Laughter is a great way to relieve the stress that comes with wedding preparations. Memes about weddings are a lighthearted way to relieve stress and brighten the mood at a stressful time.
They're perfect for sharing online: Sharing wedding-related memes on social media sites like Facebook, Instagram, and Pinterest is a fun and interactive way to spread the news of an upcoming nuptial. These images make it possible for family members and friends who aren't directly engaged in wedding planning to relate to and understand the excitement building up to the big day.
They're conversation starters: Memes are a simple way to break the ice and start conversations about various parts of your wedding, whether you are chatting with other brides-to-be in Facebook groups or at your bridal party about their responsibilities in the event.
They're a source of motivation: Some wedding memes may make fun of age-old traditions, while others may spark original ideas for certain aspects of your big day or even for how to handle obstacles you face while you plan.
Wedding Panning
Planning my wedding is simply like playing 'pin the tail on the donkey' while being blinded and clueless!
It's a lighthearted reminder that, amidst the stress and countless tasks, taking a step back and having a good laugh can be just what we need
It's an understanding look at how stress may cause you to forget important details like your own wedding date. We should all thank this meme for encouraging us to laugh even in the busiest times of life.
Double Check
Who else can relate to the bride and groom's struggle of rescheduling their wedding over and over? Even on the big day, they can't help but double-check the date!
Add it to Your Wedding Vows
Forget 'I do,' these are the real wedding vows that make hearts flutter! 🍟
The Sad Truth
When your bestie's happily ever after starts, but your solo adventures continue… The bittersweet reality!
Wedding to-do List
Oh, the joys of tackling that never-ending wedding to-do list! 😅 The struggle is real, but every detail planned brings you one step closer to your big day! 💒 Stay strong, and remember it's all worth it in the end.
A classic Inner Conflict Story
We all have that inner battle between wanting a simple wedding and wanting a grand celebration. Whether you're fantasizing about a low-key ceremony or inviting Queen Bey herself, it's okay to accept your inner wedding princess.
That moment when all your low-key wedding plans turn into the extravagant celebration you never knew you wanted
This is what all girls dream of!
A Quick Stop to McDonalds
When the wedding party hits too hard and you need a McDonald's pitstop to regain your senses before the honeymoon adventures begin!
Your Squad Roles
When the bridal squad rolls in with their unique roles: the Cryer shedding happy tears, the Hangover One recovering from last night's fun, the Social Media Manager keeping everyone updated, and the Conference Call Warrior still taking care of business—ah, the joys of wedding festivities!
That hilarious moment when bridesmaids take their duty to the next level!
High Expectations
That moment when the bride expects a full-on emotional meltdown from her future husband, or else she'll redo her grand entrance until he gets it right.
He is Serious, Don't Call him Steve
This hilarious wedding meme captures the amusing mix-up between the couple and the officiant, with a witty play on words that has everyone smirking. The bride's quick comeback about her soon-to-be husband's name adds an extra layer of humor to the already entertaining moment. Swipe for a smile and explore more funny wedding quotes that'll have you chuckling through 'I Do'.
Marriage is sweet when you are with the right person!
Let's remember that everyone's marriage experience is unique, and it's not fair to project our hardships onto others. Cheers to finding the perfect partner for each individual!
When the bride assumes she's the star of the show, the groom gently reminds her that they're both in the spotlight.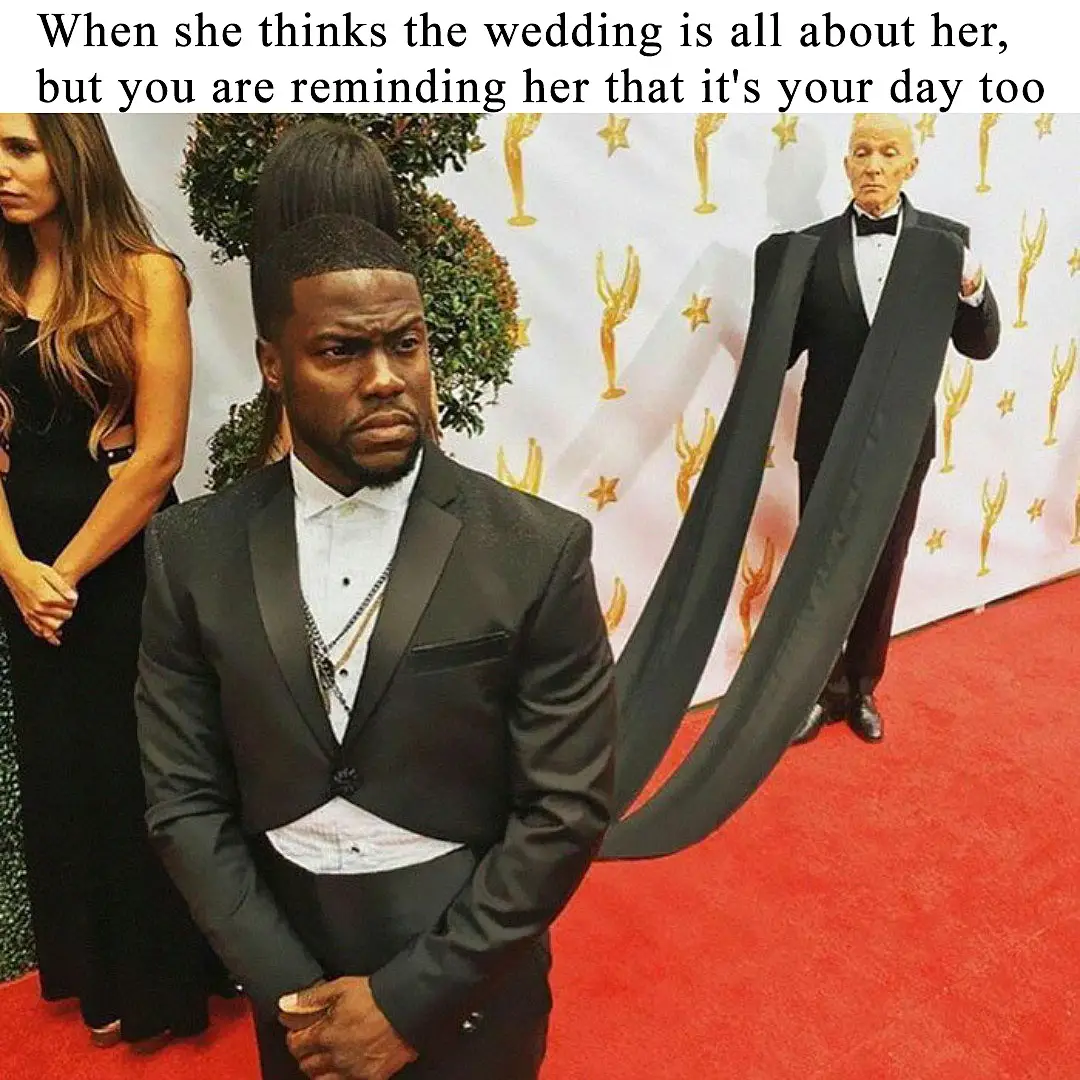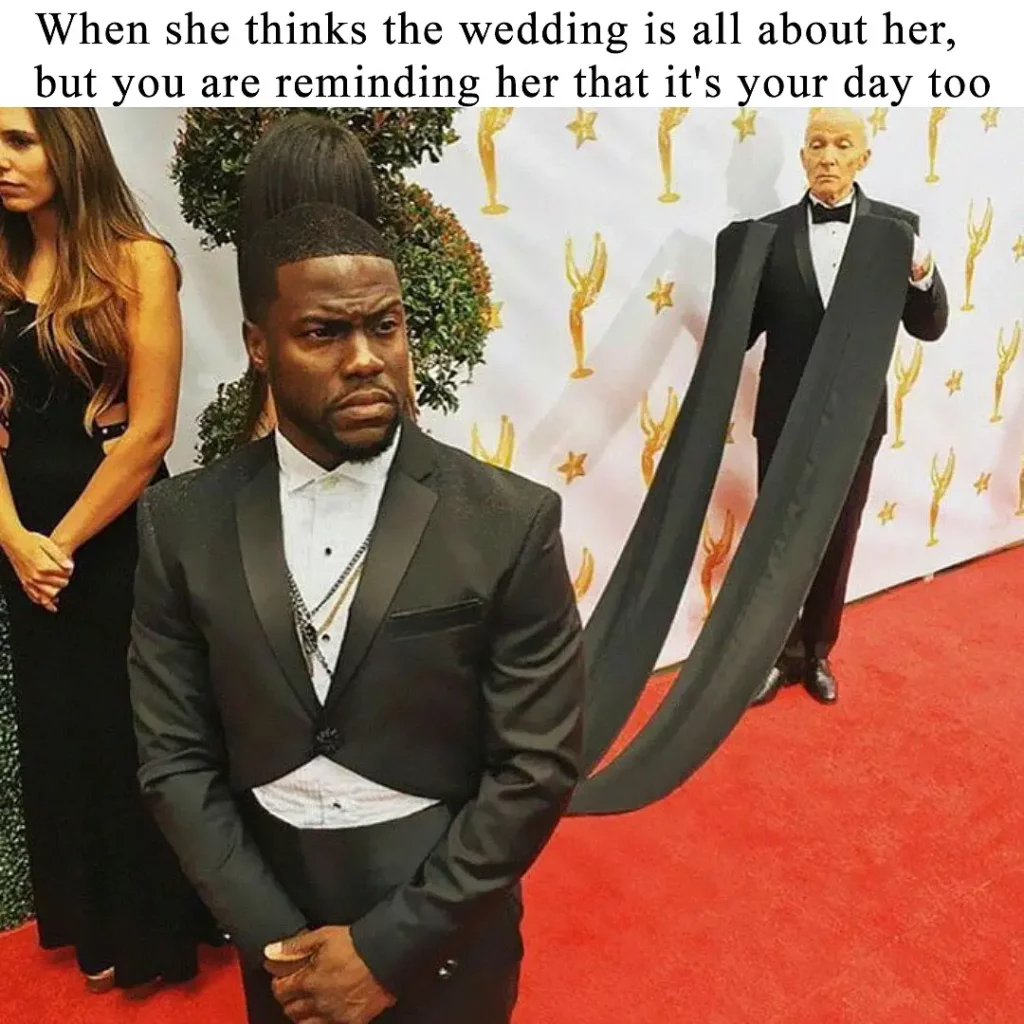 Clients treating your business meeting like a red Carpet Event
Ah, the wedding planning evolution! From an intimate brainstorming session with just the bride and groom to including the parents as key decision-makers, and finally transforming into a full-blown star-studded event with the whole entourage present. It's like watching a red carpet entrance at every work meeting.
No shame in that Game
When you know sleep is crucial before saying, 'I do'
Best Strategy
That moment when your fiancé tries to open Pandora's box of wedding expenses, but you're a pro at dodging the question.
Fresh vs. Old Couples
A mix of romance and humor for those who've seen both sides of the 'seven years of marriage vs. two months' fence. Cheers to love and laughter!
The Best Thing About a Wedding
Oh, the sweet taste of post-wedding freedom. This wedding meme perfectly captures the relief and excitement of finally being able to indulge in all the delicious treats after months of keeping up with that strict pre-wedding diet. Cheers to a lifetime of love and guilt-free eating!
Welcome to Married Life
This brilliantly captures the humorous side of married life. Combining the well-known phrase 'Happy wife, happy life' with a comical twist on the husband's part, it playfully acknowledges the inevitable adjustments and compromises that come with matrimony. A lighthearted reminder that laughter is key to a successful marriage! So why not explore short and romantic wedding quotes to infuse these vibrant bursts of joy into your own love story?
This is an excellent illustration of the fun aspects of marriage, where the woman sweetly takes the lead and the husband gladly accepts those decisions. With its witty phrasing and relatable humor, this meme is sure to resonate with everyone in a loving and lighthearted marriage.
Some Advice
The key to a successful marriage lies in fulfilling both the emotional and physical needs of one's spouse. The light-hearted tone of the meme brings laughter and entertainment, while also, to some extent, underlining the importance of maintaining a balance between practicality and intimacy in a long-lasting relationship.
Brain and Beauty
Sometimes, a carefree approach can make things seem so much more manageable. After all, you can't go over your budget if you never set one!
Formal Attire Requirement
It's a polite reminder to guests that following the dress code is not only appreciated but may also prevent them from being 'escorted out.'
Best Man's Panicked look
The best man's face captures the sheer panic in this hilarious wedding meme, as he realizes he forgot the most important duty of all – bringing the ring! The bride and groom may not be laughing, but we sure are!
It's time to move on to Something New
Haha! This perfectly captures the post wedding blues and the undeniable truth that Pinterest has been a go-to source for wedding planning and inspiration. Now, it's time to find a new hobby or start exploring other Pinterest boards like home decor or future travels.
Cheers to funny moments like this one when planning a wedding
That priceless expression of cluelessness and sheer panic. As if choosing between roses and peonies was a life or death decision. But hey, it's all part of the wild ride called wedding planning!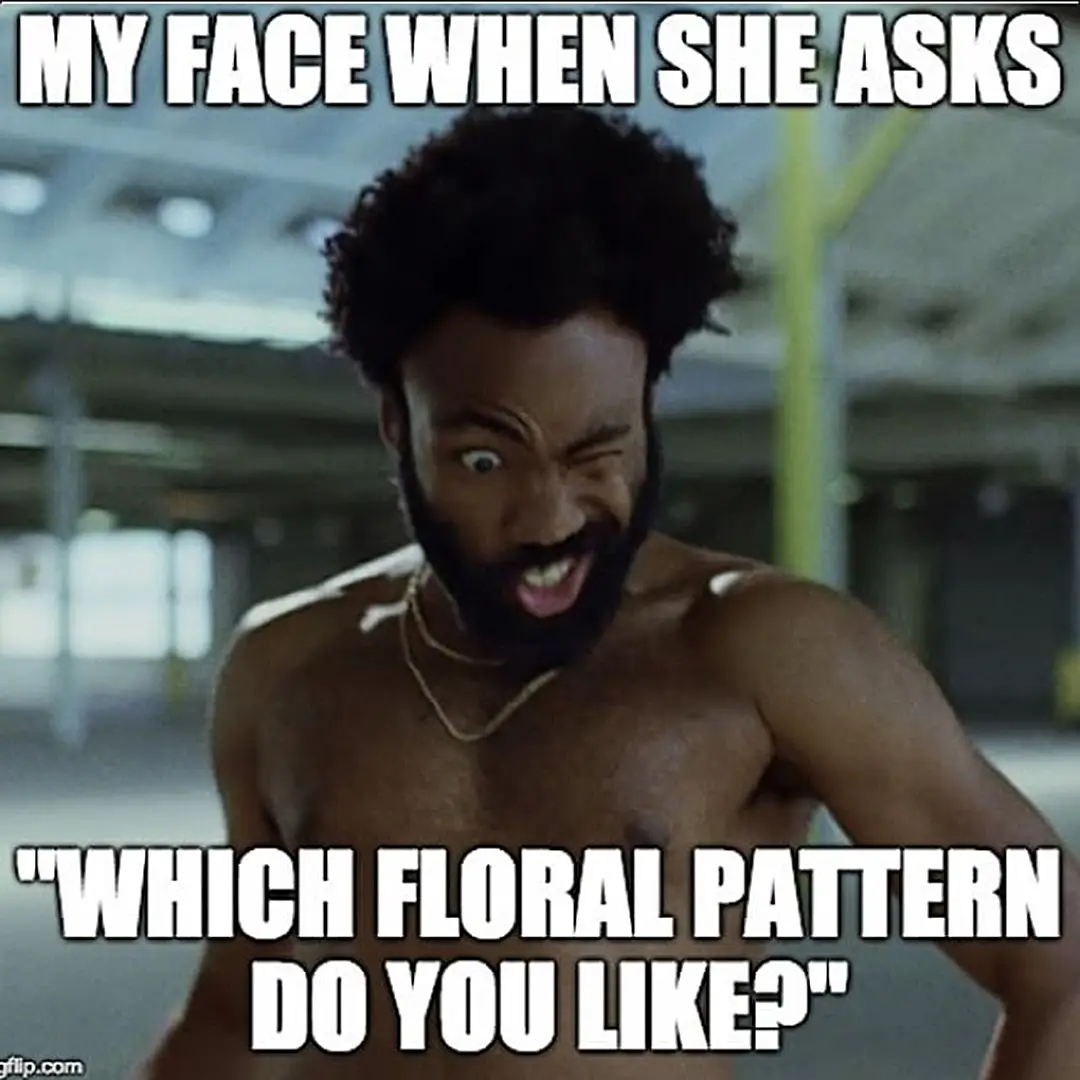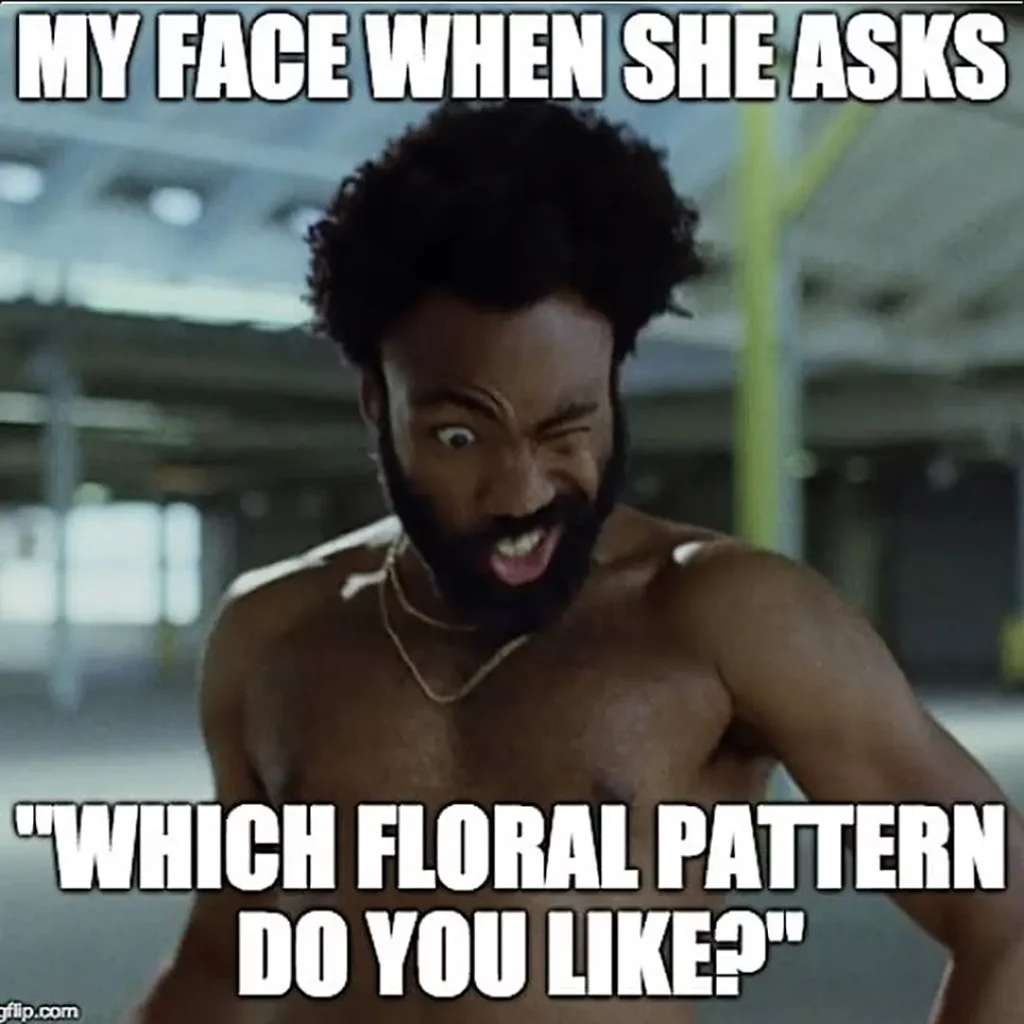 Joy and Relief of Newlyweds
Finally free from the pressure of wedding planning and societal expectations. Cheers to the happy couple and the blissful, belly full journey ahead!
The Bride Demands
Perfect for those who prefer a child-free atmosphere on their big day. It reflects a growing trend where newlyweds want to enjoy the company of friends and family without distractions, ensuring a memorable and elegant event for all.
For All the Independent, Strong, and Successful Lady
This perfectly captures the modern-day approach to marriage. The idea of waiting until one has a stable foundation in education, career, and finances reflects a relatable and practical outlook on tying the knot. It's a refreshing reminder that it's never too late to find love, and it's worth taking the time to prepare oneself for a lifetime commitment!
The Downside of not Investing in a Professional Photographer
The candid moments may be priceless, but that's if you can even see the faces through the blur. Friends shouldn't be allowed to take pictures at important events—that's what I learned.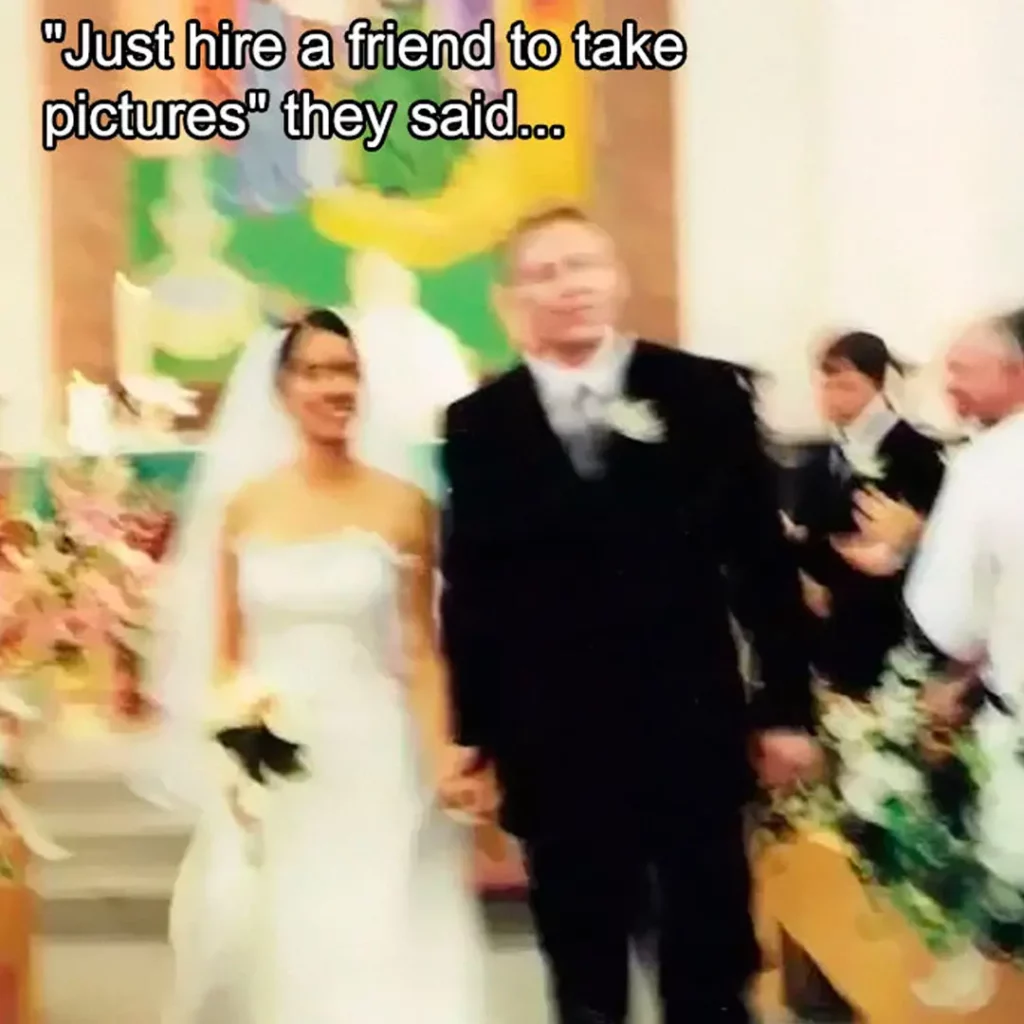 Bridesmaid Goals
Absolutely! Bridesmaids must have this level of energy during my wedding. Otherwise, they better be prepared to head home.
Try to Manage the Number of Guests and Family Expectations
That moment of shock and awe when asking parents for their guest list – and suddenly, long-lost relatives and every acquaintance they've ever met are included. It's a relatable laugh for anyone who's ever dealt with the struggle of trying to narrow down their guest list without offending anyone.
But you Still Need Money to live On
Although the idea of spending all our money in one day sounds ridiculous, it highlights the temporary extravagance that weddings often bring. Let's remember to keep a balance between celebrating this special event and planning for many happy years together!
Make Your Wedding Photos Shine
Kevin Hart knows that a wedding photo is the first step towards a lifetime of memories for any family.
Wedding Meal Excitement and Stunning Bridal Looks
This perfectly captures the joy and excitement of anticipating your meal at a wedding combined with a playful nod to the stunning appearance of the bride. It brings out the special moments that make weddings truly unique just like waiting for the delicious food. Cheers to the happy couple!
Always Be Ready
This is the most important vow couples make during their big day. Remember, weddings can be stressful but it's crucial to not let the stress take over. Keep the laughter alive and enjoy the journey as you begin your lives together.
From Elegant to Party Mode
Haha, this wedding meme perfectly captures the two sides of a wedding day! The formality of the photoshoot versus the wild, fun-filled moments after the reception. Who can relate?
When the Heart says Yes, but the Finger Protests
Congrats on your engagement, and may your love story continue to sparkle with joy (and perhaps a correctly-sized ring)
Freedom and Intimacy of an Elopement
Sometimes, it's essential to follow your heart and prioritize your happiness as a couple. Elopements are all about choosing one's own adventure. Couples should never be made to feel selfish for deciding to elope. After all, love is what truly matters!
Wedding Roller Coaster
Oh, how times change! The excitement of the initial engagement phase gives way to the reality of wedding planning and budgeting. But hey, in the end, love conquers all.
Cheers to the Bride to Be
When wedding planning has you stressed, remember that you can always find solace in a good old bottle of wine.
When Naptime is your favorite Game
When the maid of honor is all about planning those wild bachelorette party games but all you can think about is catching up on some much-needed sleep. The struggle is real when naptime becomes your favorite game.
See also: Funny Lines for Your Maid of Honor Speech That'll Leave Guests in Stitches
Conclusion
Wedding planning can be a stressful experience, so people often use memes to help lighten the mood and relieve some of the pressure. If you're feeling overwhelmed during your wedding planning process, you can come here to our wedding meme list and have a laugh. Remember, even if everything doesn't go perfectly according to plan, you can still find humor in the situation. Share these memes with your friends or significant other, and let the laughter flow.