The simple answer to the question "what should we wear?" for the soon-to-be-weds is: whatever makes you feel beautiful! Have you both always imagined yourselves in fairytale wedding gowns? Amazing! Nowadays, the dress requirement at weddings is only one of many outdated conventions. On your wedding day, you can wear whatever you like. It's no secret that lesbian weddings are among of the most joyful and memorable celebrations. The brides and their dresses are always stunning, so if that's your favorite aspect of a wedding, you're in for a real treat. Get ready for a great list of ideas for lesbian wedding outfits.
There are many ways to do that, such as with suits, jumpsuits, or dresses. You can choose from a wide variety of stylish pantsuits, jumpsuits and rompers for same sex wedding. While an all-white suit is undeniably stylish, feel free to express your individuality by dressing in whichever color or pattern makes you happiest. If you're at ease and assured, that's all that matters. Let the imagination flow!
Lesbian Wedding Suits
If you're not like gowns but still want to feel and look amazing on your wedding day, a two piece suit is your best bet. White or ivory LGBTQ wedding outfits are a modern and chic alternative to the traditional wedding gown, exuding a confidence and casualness. It's easier to move around in than a dress, and it covers more of your body when you need to. You'll feel more confident wearing it down the aisle, and you'll definitely wear it again after the wedding.
The focus of your big day should be on fulfilling your desire and goals as a pair, not on wearing traditional lesbian wedding outfits. Instead of wearing a full suit, you might dress to impress with the trendy and fashionable suit pants, shirt and suspenders, topped off with a bow tie. If you're looking for a unique take on androgynous elegance for your wedding day, consider a bridal jumpsuit or two-piece in white lace. You may complete your wedding attire with complementary lapel pins, bow ties, cufflinks, socks, shoes, belts and pocket squares.
Bridal Outfits With Suits and Jumpsuit
When one of you has always wanted to wear a sexy wedding dress to the big day but the other would rather die than wear something so showy, go with the one-dress-and-one-suit or jumpsuit option. Pants and pantsuits are currently quite on-trend for brides, so this is not simply the norm. For a laid-back and stylish outfit that is perfect for city hall nuptials, try wearing a trendy crisp white jumpsuit with either neutral or brightly colored shoes. This way, neither of you will feel compelled to wear anything that isn't "you" and both of you will be able to express yourselves and your individual senses of style.
All White Lesbian Bridal Dress
Get married in the gown of your dreams! How you present yourself as a lesbian bride is a reflection of who you are as a person. Yet, there are millions of brides, and thus, millions of wedding gowns. Picture yourself in a stunning pant suit or the timeless white gown of a Disney princess. Consider an all-white wedding dress if you're going for a classic, sophisticated look. Lesbian wedding outfits that are all white, coordinate beautifully, and still allow each bride to stand out.
Black and White
Black and white wedding dresses are a great complement between the elegance of a tuxedo and the romance of a ballgown for modern lesbian brides. A growing number of couples are taking advantage of the many chic options afforded by this trend. Finding a look that speaks to both of you is essential, whether you want to make a daring look or go for understated elegance. Enjoy the elegance of a classic black and white wedding theme to plan a one-of-a-kind event that speaks to your love.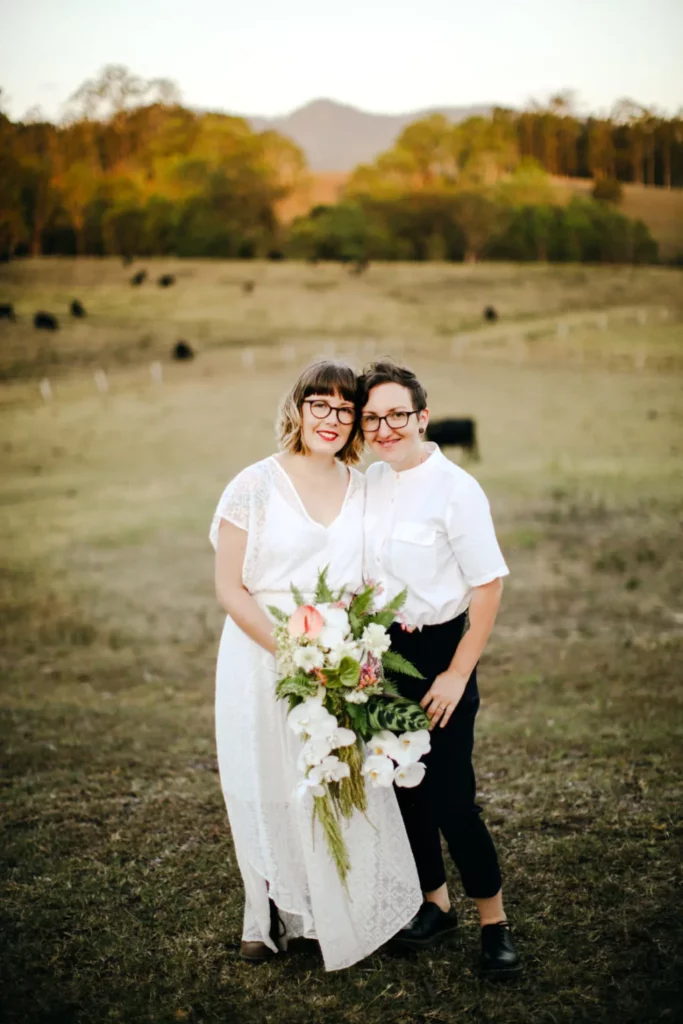 Black Wedding Attire
If you want to make a grand entry at your wedding that will leave your guests in awe and give the photographs that extra something special, your search is over. You just found the most stylish and eye-catching lesbian black wedding attire. Black wedding gowns have gained significance as a symbol of uniqueness and strength as modern wedding traditions have developed. They represent a departure from tradition and the beginning of a new era in bridal dress. So, basically, they're ideal for trendy lesbian couples nowadays!
Some couples choose to wear matching suits, while others have put a lovely spin on tradition by pairing modern suits with stunningly dramatic ballgowns. Among the many queer and lesbian wedding ideas, this is likely to be one of the most inspiring for you.
Pops Of Color
As for the meaning of "pop of color," it's because queers are big fans of adding bright accents to their attire wherever they can. Colorful accents, whether from a collar, tie, shoes or anything else are great for any wedding. An amazing jewel tone will leave an impression on your guests, and pastels look lovely in the spring.
Wedding Dresses
For their lesbian wedding outfits, some lesbian brides enjoy wearing dresses that look quite stunning. You can wear completely different ones—think back to the gown you've always envisioned wearing—or choose comparable ones—take them in the same color and design, of course and such pairings look like true eye-candy! Traditional wedding gowns with less embellishment and ruffles have long been a hit with brides who choose a low-key ceremony. A-line dresses, in particular, are simple in shape and intended to cling to the wearer at the waist.
Boho Theme Wedding Dress
For bohemian brides, a lace wedding dress has long been one of the most exposing and sultry options available. Set the tone for the day by agreeing on a mood, and then run with it whatever you see fit. An outdoor wedding is the perfect opportunity to show off a boho wedding dress. Boho gowns are the modern choice for lesbian brides, whether they're having a beach wedding or a romantic elopement. Feeling comfortable and flashing a smile on your wedding day will do wonders for your appearance.
Common FAQs
Can Both Lesbian Brides Wear Dresses?
Either, neither or both is the most clear answer to this question, similar to a traditional wedding. Both lesbian brides are free to wear dresses if they choose to do so. Wedding gowns are a popular option for same-sex brides. Keep in mind that if you've both settled on wearing traditional gowns, there's no requirement that they match. It's up to your personalities and your goals to choose whether they complement one another or stand in stark contrast to one another.
Who Walks Down the Aisle in a Same Sex Wedding?
It's up to you to decide! Take the traditional approach or, instead of one partner being "given away" to the other, enter together. This shows that you and your partner are starting this next big trip as a team. The two of you may make separate entrances and meet in the middle if that's how you'd prefer to make your big entry.
Will The Brides' Parents Walk Them Down The Aisle?
There are several alternatives for how to perform the ceremony for both same-sex and straight couples. Typically, the father of the bride walks her down the aisle. What happens when there are two brides? In this case, the solutions are dependent upon the nature of the families involved. Both fathers are welcome to take the honor of walking their daughters down the aisle.
Final Thoughts
No matter what you wear, your wedding will be beautiful and sure to make your partner feel all the feelings. On your wedding day, you can combine elements from different traditions and ditch the ones that don't serve you. The above style may be summed up as the ideal lesbian wedding outfits for exchanging vows. Finally, as the bride, you should keep in mind that your dress choice is entirely up to you. Most brides go for a white outfit, whether it's a dress or a jumpsuit. However, this is not always the case. Wear that pink or green outfit down the aisle if that's what you've always wanted to wear!