Go for a dress that has a touch of seductiveness if you want your future husband and the other guests at your wedding to exclaim "oohs" and "aahs" when they see you walking down the aisle. Every bride fantasizes about her wedding dress, particularly the dress. It's a game-changer in terms of bridal looks! With our stunning sexy wedding dress ideas for 2022, we're all about making bridal dreams come true.
See also: 20+ Best Plus Size Wedding Dresses in 2022
1. Vintage Satin Sheath Wedding Dress With Bishop Sleeves
This Maggie Sottero dress is stylish and sensual if you're looking for a stunning wedding dress with a vintage flair. It's the on-trend bishop sleeves that will have everyone talking, made from sumptuous stretch satin with a sheer, organza-lined bodice and beaded embroidery. The sheer bodice and sleeves meet the dress's sweetheart neckline to create a cut-out effect that emphasizes the cleavage, while the sheer bodice and sleeves reveal a sensual yet classy amount of skin.
2. A-Line Wedding Dress With Long Fitted Sleeves
Even though it is almost completely see-through, this Galia Lahav dress is the very definition of elegance. This gown is perfect for the sensual yet romantic bride who wants to incorporate some sexiness into her wedding look. A certain seductive dreaminess is maintained by the garment despite its elegant appliqués and large, billowing skirt.
3. Wedding Dress With Illusion Side Cutouts & A Low Back By Sabrina
Feel beautiful and seductive on your wedding day with this jersey fit and flare gown. Featuring a gorgeous illusion Sabrina neckline, a low back, and illusion side cutouts. The lace is adorned with laser-cut Appliqués and Point d'esprit.
4. Thigh Split Wedding Dress with Illusion Lace
This dress is perfect for brides who are looking for a more seductive style. This thigh-split top is so sheer that it almost reaches your belly button. In spite of this, it is unquestionably appealing, and the all-over illusion lace creates the impression that your guests are looking straight through to your flesh (don't worry, there is a nude lining). This is the sexiest dress for you to wear if you really want to make a statement about who you are.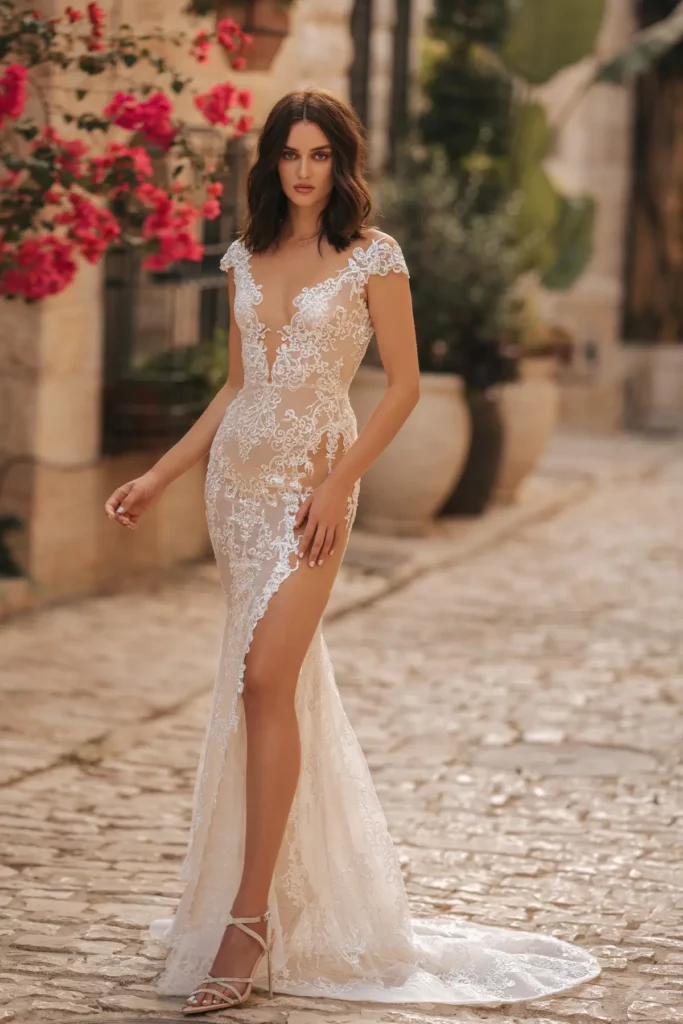 5. Asymmetrical One Sleeve Wedding Dress
Cut-outs are elevated to new heights in this column gown. The left side of the dress has an asymmetrical neckline, a single long sleeve, and a series of bows that bind the bodice of the dress together, revealing a lot of skin before meeting a thigh-high slit.
6. Sexy Backless Mermaid Wedding Dress With Plunging Neckline
This sexy, organic-inspired dream of a dress will be the talk of your wedding day. This delicate mermaid silhouette is pure magic, with seaming through the low hip and a gentle yet voluminous skirt that flares into a breathtaking shaped train. Beaded shoestring straps extend to the back of the gown, with low keyhole detail at the base of the open back which provides support and a touch of visual interest. The sparkling bodice and skinny plunge neckline are completely feminine, with sheer sides and strong floral lace patterns featuring vine and leaf-like shaping, effortlessly growing over the silhouette of the dress. The ruched detail at the back of the hip enhances your shape and complements the multi-layer tulle skirt with a lace hem for a classic finish.
7. Beaded Ball Gown
This Galia Lahav piece is all about the silhouette. Elegantly beaded with a corset and sweetheart neckline, this beaded ball gown has a voluminous horsehair texture skirt that shimmers in the light. With its translucent fabric, it appears to be barely there, allowing the silhouette of your legs to shine through. The style is completed with a tight bow belt.
8. Mermaid silhouette Wedding Dress
Even though this Berta dress skims over your entire form, it draws particular emphasis to your rear end. This dress features a low-cut back, a mermaid skirt, and sheer elements, all of which help to crank up the eroticism in the most elegant way possible.
9. Glamorous Crepe Fit And Flare Wedding Dress
This beautiful dress is excellent for modern brides who desire a stunning silhouette that doesn't restrict them. The dress seems like it's made of silk, but it's actually made of stretch crepe, the bodice features a seductive sweetheart neckline with banded off-the-shoulder straps and artistic draping that enhances and highlights the natural curves of the body. The chapel-length train of this easy-to-wear style is finished with fabric-covered buttons that zip along the back.
10. Sheath Wedding Dress With Halter Neckline
Dazzling Gemma is guaranteed to get people's attention. Shimmering beaded Tulle adorns this sexy Sheath gown with a sheer Halter neckline over a Sweetheart neck silhouette and opens back. A gorgeous beaded Tulle cape with feathered edges is an optional way to add majesty to your look.
11. Translucent Lace Wedding Dress
This stunning translucent lace dress is part of Berta Privée's newest collection. Even though they're covering more skin, the sleeves somehow enhance the sexiness of this outfit. There's a throwback Madonna air to them when the queen of pop was in her ultimate sensual peak. You may channel those playful vibes in this eye-catching outfit.
12. Off The Shoulder Wrap Wedding Dress
Featuring a split skirt and a detachable train, this gown is the epitome of modern elegance. We do, however, appreciate how the tiny lace off-the-shoulder straps give off a sense of romance—the ideal complement to an otherwise adventurous dress!
13. Sheer Lace Sexy Wedding Dress
Whenever you think of stunning wedding dresses, you think of Berta. This brand is well-known for its eye-catching sheer designs. You don't need a mermaid skirt to look seductive in this gown from their Montefiore collection. The plunging neckline, sheer lace bodice, and silky sleeves give the dress a seductive, princess-inspired aesthetic. If you're a fan of this concept, you'll adore our selection of the greatest princess wedding gowns.
14. Cecilia Sexy Wedding Dress
Off-the-shoulder bishop sleeves and tastefully placed floral embellishments make Liz Martines' "Cecilia" dress seductive and playful at the same time. You may achieve a fairytale-like effect without looking like a princess with this white gown.
15. Butterfly Wedding Dress
There's a romance in the air. You don't have to spend a lot of money to achieve a sexy appearance (after all, you are already there). The Butterfly features off-the-shoulder ruffled sleeves. A flowing skirt and a fitted bodice with a ruffled hem. The off-the-shoulder pattern of this classic gown is ideal for summer because it enhances your shape.
16. Sheer Lace A-Line Sexy Wedding Dress
Mikado's gorgeous gown is adorned with dimensional flowers and exquisite lace. The Scoop neckline is accentuated by delicate sheer lace straps that slide into a low back with sheer embellishments. Featuring a slit opening, this elegant A-line skirt shows off a little skirt underneath.
17. Floral Tulle A-Line Wedding Dress with Removable Sleeves
The classic A-line gown is given a romantic makeover to produce a true one-of-a-kind and poetic bridal gown. The translucent sweetheart neckline has visible boning features that help define the silhouette, and the swag sleeves can be removed for an off-the-shoulder style. Embroidered floral appliques fall down the light tulle skirt. Layers of glittery embellishment give sparkle, and the skirt slit is hidden.
18. Off The Shoulder Sexy Wedding Dress
Designed to fit like a glove and sculpt the body, this gown is made of Duchesse satin. Fit and flare, corset bodice, off-the-shoulder straps, and a subtle dip in the front neckline all produce a beautiful, feminine aesthetic and an hourglass shape, respectively. You'll be just as eye-catching from the back as you are from the front since there is a great train behind you.
19. Arly Wedding Dress
The Arly gown is a minimalist bride's dream, as it is timeless and exudes sensuality. An almost-lingerie-like neckline peeks out from beneath a silky cowl to reveal a lace sweetheart neckline. The silky material looks and feels opulent, and it's a pleasure to touch.
20. Watters Mirall Gown
With a series of covered buttons running from the waist to the hem, the Watters Mirall gown is available in straight and plus sizes. Intricate draping is combined with an adjustable leg split to create a slimming, seductive look. For brides who want to look their best, this is a must-have accessory!
21. Low Back Soft Lace Sexy Wedding Dress
This sheath dress is made of eyelash lace and has a form-fitting silhouette that flatters the figure. The back of the dress dips to a low point, and a lace train trails behind it without adding any heaviness.
22. Crepe Fit and Flare Wedding Dress with Illusion Lace Side Cutouts
With a beautiful bouquet tucked around your waist, your guests won't be able to see the dress's surprise! The illusion lace and cut-out side panels that embrace your contours on this fit and flare dress are only visible as you walk past or move your arms away from them. Sultry but not excessive skin is displayed in this real-life spectacular. It's all about enticing your guests with a peek of your curves in this dress.
23. V-Neck with Straps Fit and Flare Wedding Dress
Everything a bride could want is in this beautiful Venice lace gown, from the beading to the ruffles. It has an illusion plunge neckline and Chantilly lining. Even more romantic is the V-back neckline. This style is also available in a variation with a higher neckline for women who prefer that look.
24. Corinth Silk Wedding Dress
Get into a silky-smooth outfit. The Corinth is a sleeveless mini dress with a halter neckline and a rear necktie. It's loose-fitting all over but still has a nice shape. For brides who want to seem sensual on their big day, this short wedding dress is a great option. The smooth fabric and exquisite halter neckline of this dress will make an impression on everybody who sees it.
25. Hollyhock Wedding Dress
The Hollyhock has a long dress and a smocked back bodice with non-adjustable straps. It is slim fitting through the waist. It's both comfortable and flattering at the same time. Designed for a low-key beach or garden wedding. Its semi-sweetheart neckline is very sexy because it is fitted and has a low-cut bust.
Common FAQ On Sexy Wedding Dresses
1. What makes a wedding dress sexy?
When it comes to what people find sexy, everyone has distinct interests and preferences. Finally, whichever outfit makes you feel most confident will also make you feel most sexy.
2. Do sexy wedding dresses show a lot of skin?
Some people believe in it, while others do not. When it comes to showing off your cleavage, it's totally up to you how much skin you want to flaunt on your big day.
3. How to choose a wedding dress for my body type?
Purchasing the hottest wedding gown that flatters your figure is a fantasy that can be realized. If you want to flaunt your curves, go for a silhouette that embraces them. To hide your waist, go for a high-fitting waist and a long flowy skirt. Try on a couple of A-Line dresses for larger hips and thighs, and if you're pear-shaped, diagonal drapings are ideal. Try on as many dresses as you can until you locate the one that makes you gasp.
Final Thoughts
There are so many different ways to be sexy – sheer material, short skirts, plunging necklines – that you'll find the perfect wedding dress for you. Look through our selection to see which of these glamorous,  dresses makes your heart race. And, at the end of the day, the fact that the dress is on you is what makes it seductive! These wedding dresses are the ideal choice for a bride-to-be who wants to show off her figure. They are the ideal combination of sweet and spicy, and they will elevate your style to the next level.
We are sorry that this post was not useful for you!
Let us improve this post!
Tell us how we can improve this post?