Searching through wedding hairstyles ideas for 2023, aside from finding your wedding gown, can be one of the most exciting aspects of planning your wedding day look. But if you find yourself stuck in the middle—i.e., at a hair length that can neither be described as short or long—that's easier said than done! While the verdict is still out on what mid-length or medium-length hair is exactly—to the shoulders, collarbone, neck, so many options! To help you out, we've gathered some captivating wedding hairstyles for medium hair that are sure to leave a lasting impression.
Whether you're going for a vintage-inspired bob, natural curls, a loose updo, or a half-up half-down look, there are so many ways to style mid-length hair on your wedding day. No matter what you choose, be sure that your beauty look stays true to yourself and your personality. Explore these stunning wedding hairstyles that are perfect for medium-length hair.
Updo Wedding Hairstyles for Medium Hair
What updos are the best for medium length? It, certainly, depends on the occasion. However, we can sum up the most popular hairstyles for mid length in 2023 and create a sort of summary on this topic. In brief, we can list these: buns, simple knots and French knots, braided updos and up hairstyles with tucked ends. Read further for a more detailed review.
All from Tonyastylist on Instagram
Half Up Half Down Medium Length Wedding Hairstyles
If you haven't decide between the updos and down hairstyles, here're some half up half down wedding hairstyles you may love in 2023, which will have the naturalness and chic of freely flowing locks, as well as the elegance of the lifted up part.
With Your Hair Down
No matter your hair texture or overall vibe, these medium-length wedding hairstyles are bound to suit you.
To help you further, we've compiled a list of the latest and trendy wedding hairstyles for medium hair that you can use on your big day. These medium-length bridal hairstyles are suitable for all hair textures and types.
See also: Short hair wedding Hairstyles for your big day
Trendy Best Wedding Updos For Medium Hair
High Messy Bun Wedding Hairstyles For Medium Hair
A chic and elegant option for brides with medium hair is the high messy bun wedding hairstyle, which is sure to turn heads. This hairstyle involves placing the bun high on the head, or alternatively, creating a loose bun that drapes over the cheeks and jawline, or a sleeker, more tightly pulled-back bun. While this style may not be the best choice for those with elongated features, it is perfect for those with round or oval faces, adding a touch of sophistication to any bridal look.
Twisted Low Bun Medium Length Wedding Hairstyles
For a comfortable yet detailed look, style your medium-length hair into a low bun with some strands left loose around your face; whether you prefer a sleek or messy appearance, there are many ways to achieve this style. This effortless hairstyle is perfect for laid-back brides who want a simple yet chic look on their wedding day. Adding a sparkling headpiece can elevate the style even further, and it's also a great option for your bridesmaids to coordinate their looks.
French Braided Updo Wedding Hairstyles
A French braided updo is a perfect summer wedding hairstyle for medium hair that's easy to recreate, offering a chic & elegant look for any bride. To create this style, start by pulling your hair into a low ponytail & braiding it. Then, create a hole above the ponytail and pull the braided ponytail through it, securing it in place with bobby pins. This effortless updo is perfect for brides who want a carefree yet exquisite look on their wedding day, and can be accessorized with floral clips for added flair.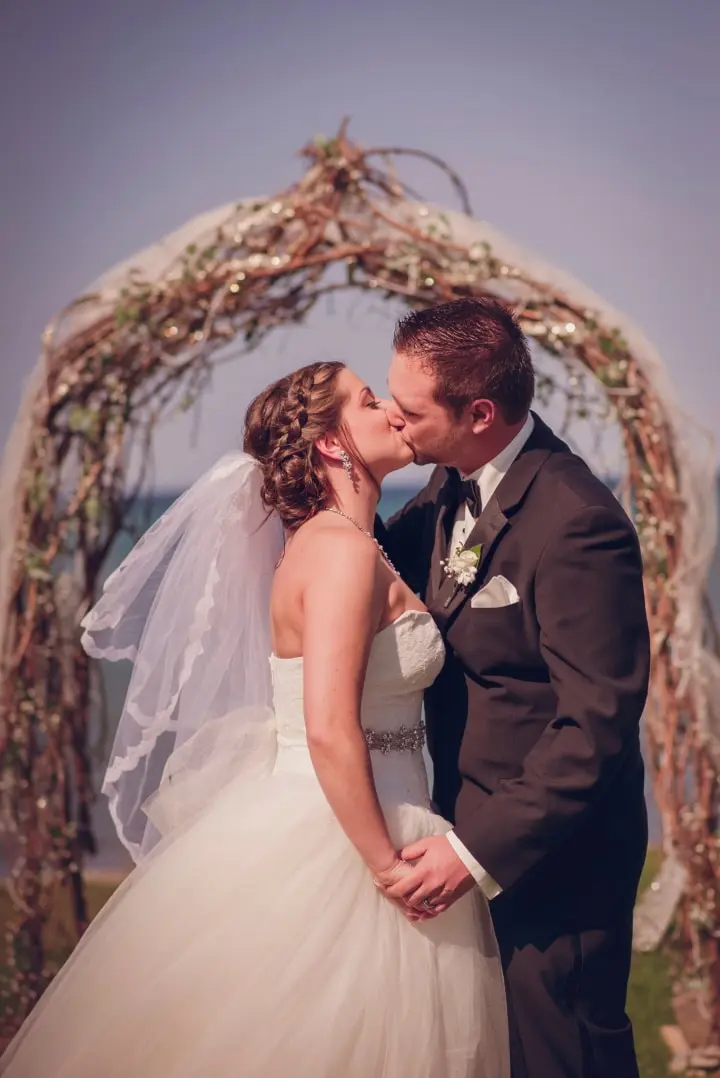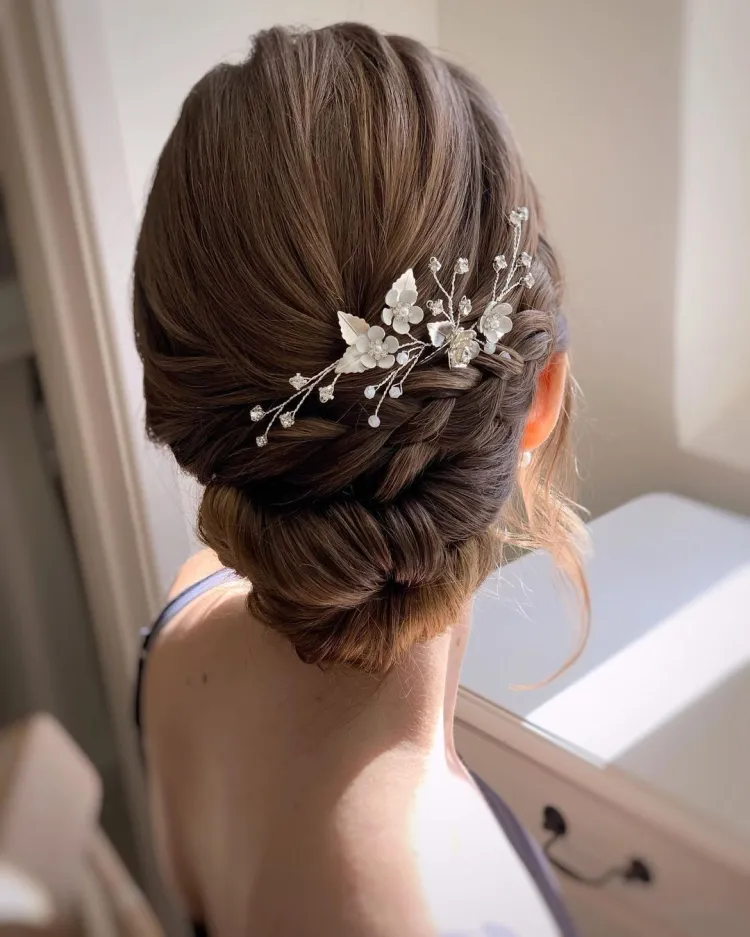 Half Up Half Down Wedding Hairstyles For Medium Hair
For a more relaxed and laid-back bridal look, opt for a half up half down wedding hairstyle, a beautiful choice for medium-length hair. Take a section of hair from both sides of your head, twist and pin them together with a wedding hair clip or bobby pin, leaving the rest of your hair to flow freely. Add some texture by braiding the two strands and accenting with a wedding headpiece.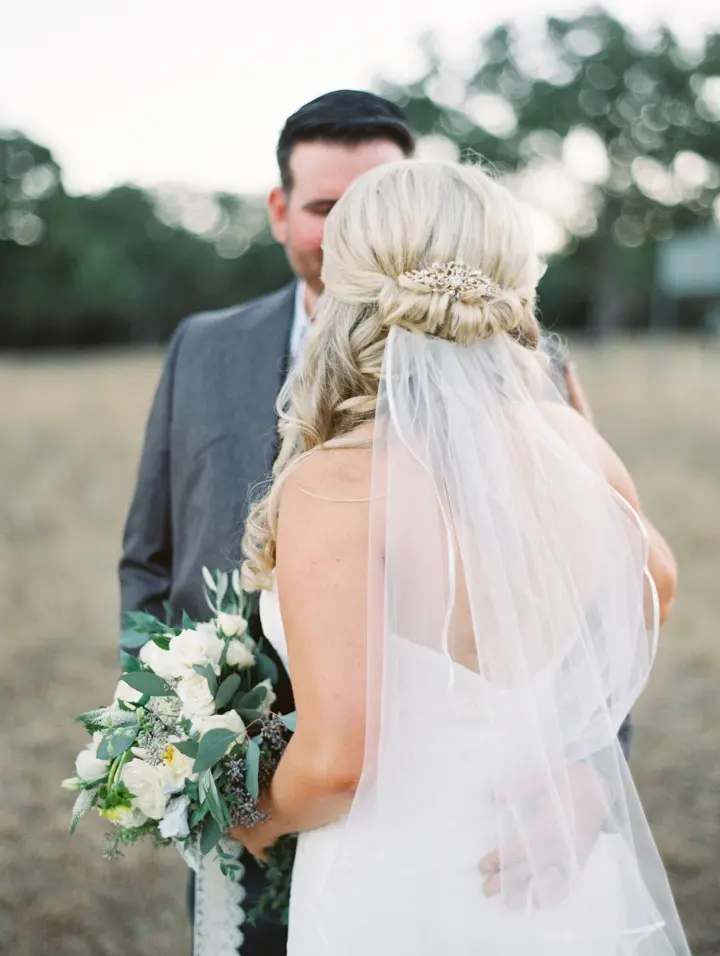 Loose Braided Wedding Hairstyle For Medium Hair
Loose braids are a lovely option for brides with medium-length hair. This low-maintenance messy braid is a great wedding hairstyle for a more laid-back ceremony. Flowers falling down a braid can be added to the braid if you prefer to wear it to one side.
Twin French Braid Medium Length Wedding Hairstyle
Looking for a classic and elegant wedding hairstyle for medium length hair? Try the double French braids that gracefully flow down your back, perfect for a small wedding. Create twin braids and secure them together in a chic knot, while accessorizing with a bridal headpiece that matches your unique style.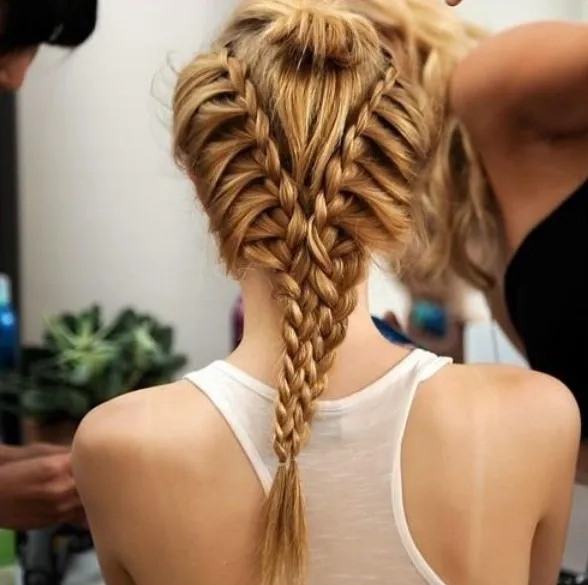 Vintage Wedding Hairstyle
Are you looking for medium-length hair wedding hairstyles with a vintage feel? If so, a classic updo with sloppy, fixed, or curled waves and a shiny hairpiece would be a good idea. For a vintage-themed wedding, a side updo with fixed curls on one side is also a great retro hairstyle. If you want to make it look a little more polished, try a shiny hair item.
Ponytail Medium Wedding Hairstyles
For a relaxed bridal look with medium hair, ponytails are a great go-to option – just gather your hair into a ponytail, leaving a few strands loose on each side. For added elegance, tie the ponytail with a beautiful ribbon or dress it up with a floral crown.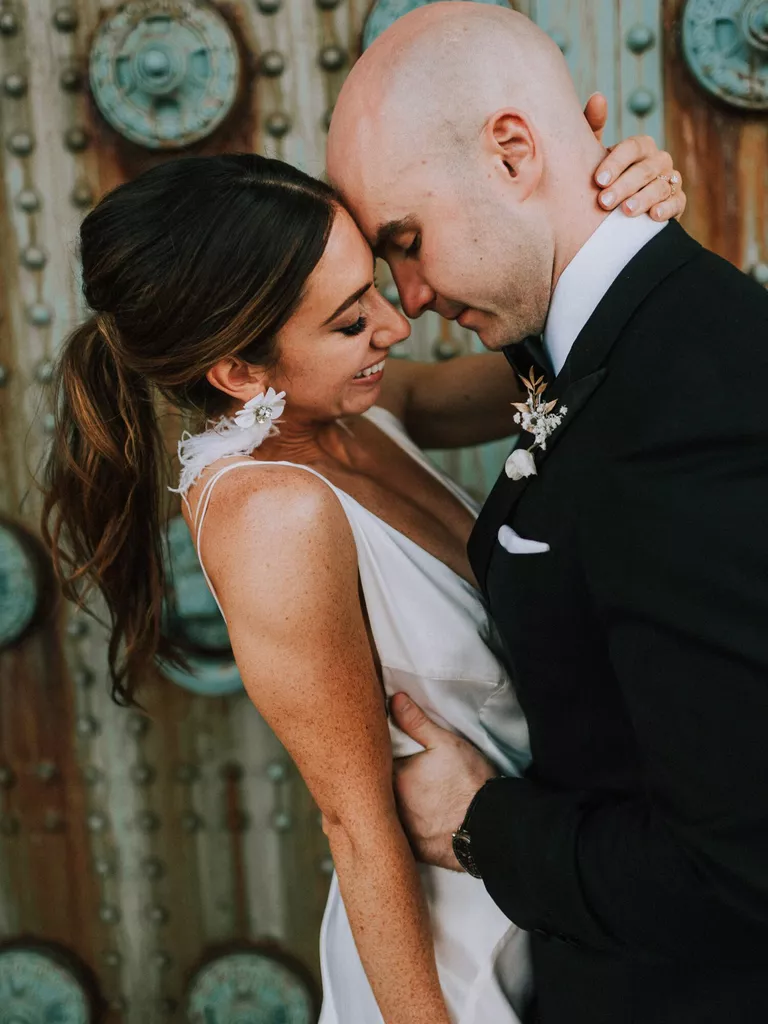 Flowy and Voluminous Curls Wedding Hairstyles
For brides who want to rock voluminous hair on their big day, the voluminous curls wedding hairstyle is a perfect pick. With big, bouncy curls, your medium length hairstyle is sure to make you the center of attention on your wedding day. The key to achieving maximum volume is opting for larger curls instead of small ones. So, go for whipped, oversized curls to add a touch of glamor to your bridal look.
Common FAQs
Final Thoughts
With wedding planning, it's crucial to determine what truly matters & prioritize accordingly. Now is the time to focus on yourself, the gorgeous soon-to-be bride who's selected the perfect wedding dress and shoes. Leave the wedding table ideas aside and delve into the world of mesmerizing wedding hairstyle ideas for medium hair that will take your breath away. Our fresh & fascinating collection of medium length wedding hairstyles can inspire your dream wedding day look— So get ready to be amazed & pick a hairdo that matches your dream wedding dress & theme!
Image Via: Art of it/ Instagram/ maria_S_hairlooks/ bridal_hairstylist/ emi.styles.hair/ theweddingplanninghub/ Chellise Machael Photography/Photo by Christa Elyce/Photo by Jenny Packham/Photo by Robert Coppa/Photo by Pouted/MLE PICTURES/Michael and Anna Costa Photography/Melissia Millan Designs/haircomesthebride/ A Practical Wedding / Pretty Designs / Wedding Forward / Lilia Flower / Lulus / Glaminati / lenabogucharskaya