Your wedding dress is the first thing that comes to mind when you think of your bridal look. What's going to happen after that? What about earrings, a crown, a bracelet, and perhaps a veil? Wedding shoes shopping is a challenging task for any bride-to-be. Make sure you don't forget them!
Some experts believe that the budget-conscious bride wants more than just a lifetime of memories and a photo album to remember her big day. For her, the most important thing is to choose shoes she can wear repeatedly.
See also: 20 Stunning Small Wedding Ideas on a Budget for 2022 Trends
Consider selecting wedding shoes that are lavish but versatile if you adore shoes or simply enjoy the concept of wearing your wedding memories on important occasions (like your anniversary). Here are some things to think about when choosing your wedding shoes.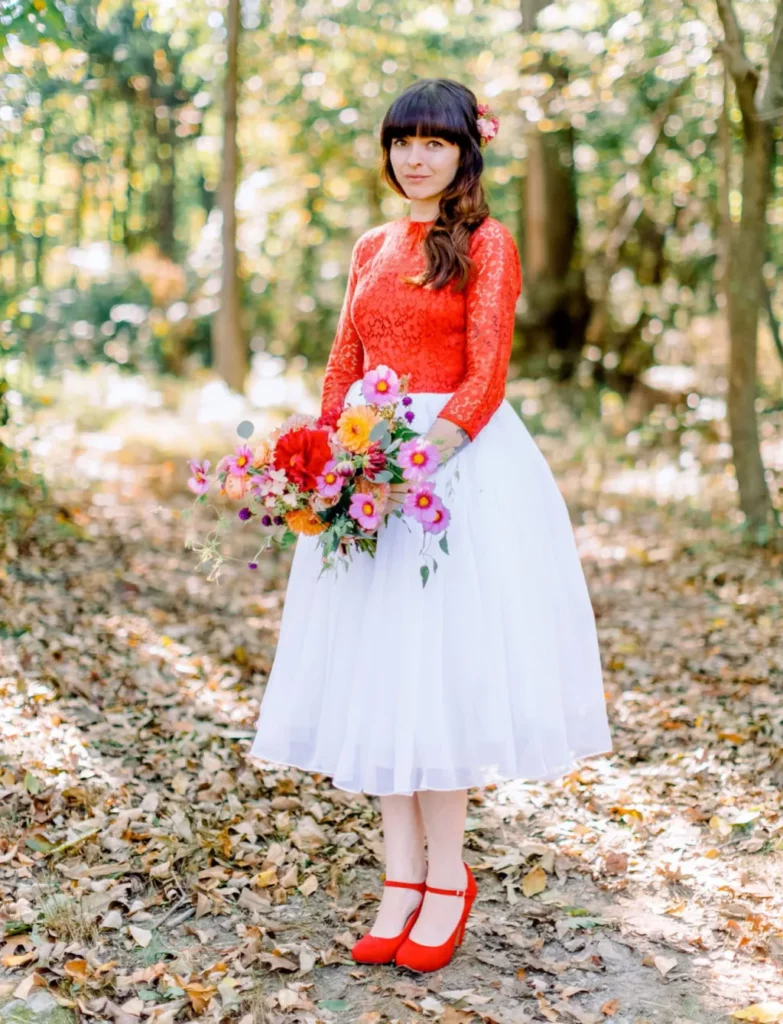 1. Always Make Your Buy Early
Don't leave it until the last minute to find your wedding shoe, according to our first rule of thumb. Make a Pinterest board with your favorite wedding shoe styles so that you may refer to them when you are trying on bridal gowns.
Buying early is always a smart idea when making an online purchase because sizes can sell out quickly. There is a considerable wait time if the sizes are out of stock, especially when it is handcrafted. As a result, getting the shoe as soon as possible is always a smart option.
In order to guarantee that it complements your dress and that the hem is correct, you should have it before your dress fitting. This will save you money on future alterations.
2. Your Shoes & Outfit Should Complement Each Other In Terms Of Style & Color
The shoes you choose for your wedding dress will depend on whether or not your feet will be seen when you walk down the aisle. When choosing a shoe for your wedding, it's important to think about the style of your dress, the length of your skirt, your own height and build, whether or not you feel comfortable wearing heels all day, and the proportions of your body.
With a tea-length dress, a pair of pointed or open-toed shoes will go beautifully. While a beautiful mermaid-shaped dress would look great with a pair of strappy heels, a pair of rhinestone sandals would look just as wonderful with an empire or sheath-style gown adorned with jewels.
Consider taking your wedding dress or the fabric from it with you when you buy your wedding shoes so that you can ensure that they match precisely. If you can't match the exact color of your dress or jewelry to your shoes, attempt to match the ornamentation. The designer of your wedding dress may be able to provide you with extra fabric to conceal your shoes if this is proving problematic.
3. Make Comfort A Top Priority
Always keeping an eye on fashion is important to us, but if your feet are in so much pain that you have to remove your shoes in order to have fun, it's not fair. Therefore, the height of your heel should be your first concern. It's unlikely that anyone will notice if your shoes perfectly match the color of the lace on your dress if they can't see them at all.
Instead of being forced to wear something that exactly matches but is uncomfortable to wear for long periods of time, you now have the option to choose a shoe that is more practical and comfortable to wear.
For those who don't plan on dancing all night and don't want others to see their feet, a pair of comfortable flats, espadrilles, or heeled shoes in any color would be perfect.
4. Don't Be Afraid To Experiment With Color
How you dress for your wedding day is a reflection of who you are as a bride, and the color of your shoes reflects that, too. Clean white, champagne, ivory, and nude tones are likely to appeal to more traditional brides, but don't be afraid to experiment with color if you're looking for a little extra flair in your shoes!
It's easy to add some new life to your bridal look by changing up your shoes to a different shade. You can match the color of your bouquet or the dresses of your bridesmaids, or you can even choose a color that complements the theme of your wedding.
Metallics "provide a little more glitter and shimmer to captivate the eye," so use them to draw attention to yourself and make a statement. The traditional "Something Blue" bridal shoes have been given a quirky makeover, and they are now available in a broad variety of shades of blue, from light baby blue to dark royal blue.
5. Location Of Your Wedding
First and foremost, are you able to walk in high heels? Are you being married in a church or on a beach, and if so, how formal and traditional will it be? Whether you're trying to appear taller or not, it's important to answer this question. Your choice of the heel will depend on the location of your wedding. To walk gracefully in heels through the sand at the beach is significantly more difficult than an aisle in a church. When picking out your wedding shoes, keep the location in mind!
6. Get Them to Wear In
How do you make sure your shoes are as ready as you are on the big day once you've found the perfect pair? It's all about practice, practice, practice!
The best way to test the shoe's comfort is to wear it around the house on a clean, indoor and carpeted floor. Also Preparing meals can be the perfect time to wear your wedding shoes for an hour or two, allowing them to break in and feel comfortable on your big day. Try dancing in them if you're feeling very daring. Even better is to wear them before your wedding so you can get a sense of how you'll look on the big day!!
Common Questions
1. What kind of shoes should I wear to a wedding?
White, neutral, yellow, violet, purple, gray, and black are the most common colors for bridal shoes. If you want to make a statement with your gown, opt for a jewel tone such as emerald or ruby instead. Keep in mind that most shoes can be colored if you can't locate the color you want.
2. What heel height is best for wedding?
Consider the height of the heel if you plan to wear heels. The ideal heel height for an all-day event is between 3 and 4 inches, according to research.
3. How do you choose wedding shoes?
First and foremost, purchase your wedding gown, your wedding shoes should match the formality and design of your gown; Setting Goals (and a Budget) for Your Shoes; Choose a Venue; Keep an eye on the weather and compare prices; Prioritize your comfort, and bring it with you to your dress fittings.
Final Thoughts
Unless you're planning on changing your wedding shoes after the ceremony, you're stuck with them, honey. The choice is yours, so make it wisely. Do you have a soft spot for them? Is it comfortable to wear? The question is, do they say what you want them to say? Whatever type of heel you choose, be sure that your wedding shoe is an accent you're looking forward to wearing!