The finest sensation in the world is when you are wearing a red pair of wedding shoes. It doesn't matter if you're not really that into heels or if you're head over heels for these sorts of wedding shoes; putting on a pair of magnificent shoes will make you feel at least 10 times more confident on your big day. It is much more elegant if you can show it off with the way you walk on your reception day.
Red is always in style!
Since the color red is associated with weddings, we thought it would be appropriate to gather some examples of red wedding shoes for you to peruse. For this compilation, we searched the internet for a diverse range of red shoes, including heels, flats, platforms, and everything in between. Take a look at each one!
1. Ruby Red Heels For Brides
These gorgeous red pairs have been diligently created with a focus on ease and coziness in mind, and they are very stunning. The appearance of ankle straps can be quite alluring. The fact that they are suede shoes in a rich red color only adds to the allure of the item.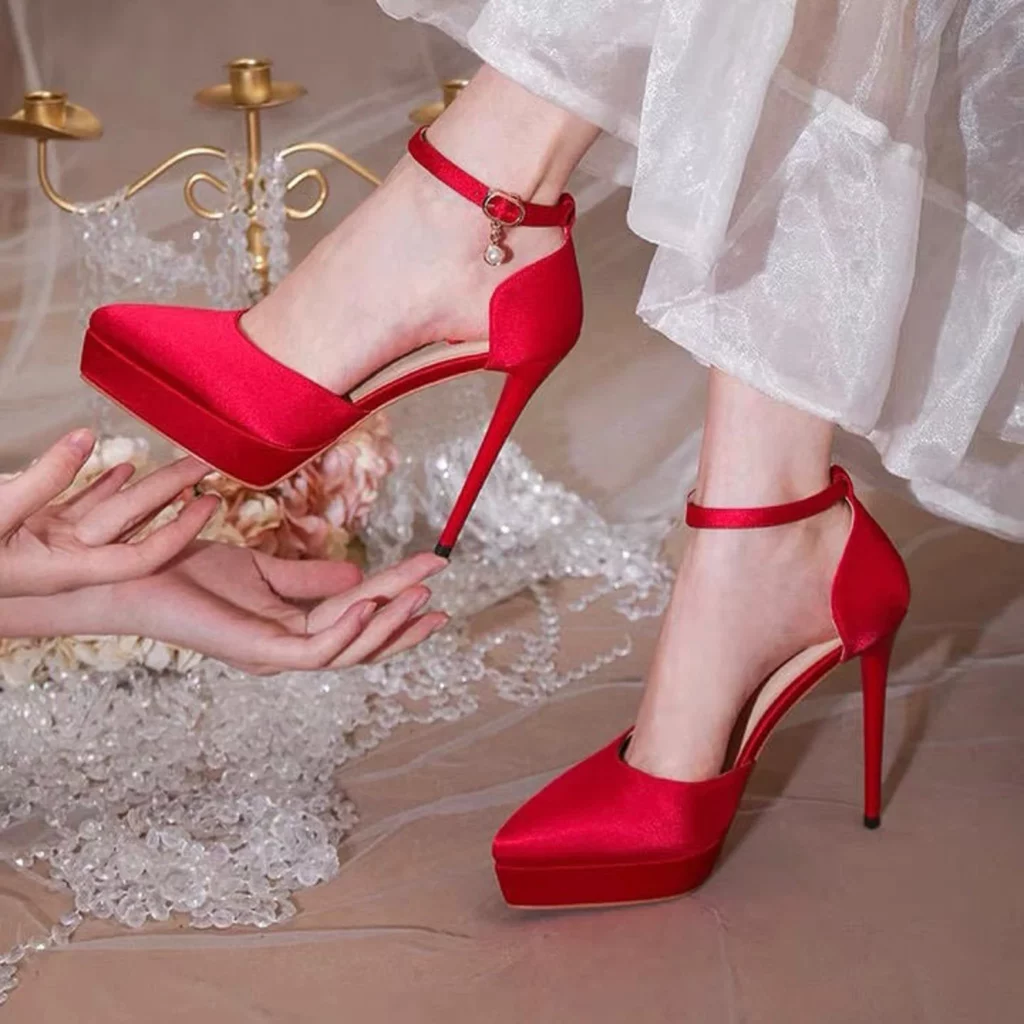 2. Big Bow Red Bridal Shoes
It is attractive and elegant to wear shoes that have incredibly high heels and big bows tied to the sides of the ankles. They certainly are a lovely addition to the overall appearance of a wonderful bride-to-be. The shape of the shoe is rendered with a straightforward and contemporary design. The structure of the shoe is strong, and the non-slip sole ensures that you won't lose your balance as you spend hours in it.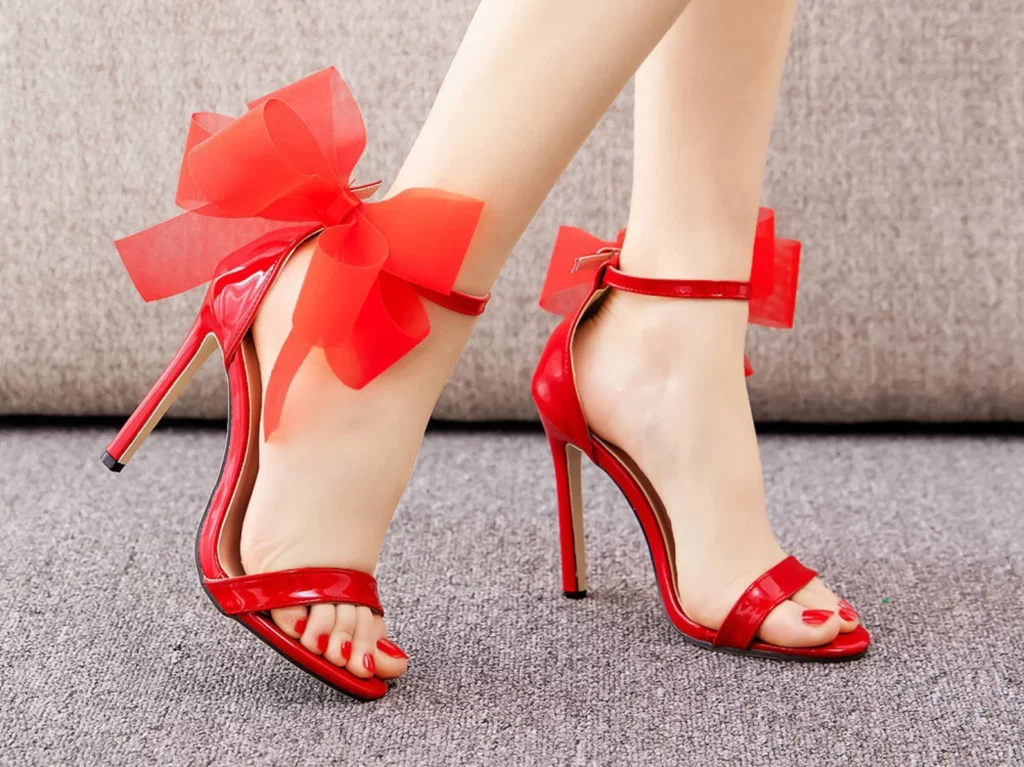 3. Premium Handmade Bridal Lace Shoes
A heel doesn't always need a lot of embellishment to be lovely. Here is a pair of red lace shoes that is elegant, beautiful, and up to date all at the same time. They will complement any wedding dress you choose to wear.
4. Red Ankle Straps Block Heel
The bride-to-be will love how comfortable these shoes are! If you're looking for shoes that are both stylish and comfy, these are the ones for you.
5. Red Velvet Pumps
These timeless shoes were handcrafted by Red Velvet and are completely unique. Infuse springtime bridal attire with a dash of whimsy with these red velvet shoes.
6. White Lace Wedding Shoes With Red Ribbons and Rhinestones
This braided mule is both stylish and comfortable, making it an ideal choice for a wedding shoe. This low-heel shoe, despite its white lace fabric and beautiful bridal red bow, will support and cuddle your feet all the way down the aisle to the afterparty.
7. Peep Toe Style Sexy Red Wedding Shoes
This red-soled high-heel shoe is sure to turn heads wherever you go. The asymmetrical bow on the satin fabric of these red bridal shoes with a suede court shoe construction is made to complement perfectly. As wedding shoes, they're just right here. Fits well with both floor-length and tea-length gowns. The heel is 10.16 centimeters high.
8. Red Open Toe Suede Wedding Shoes
Sultan Shoes' timeless-design heels will have everyone talking about your stunning new look. You'll be the center of attention at your special event because of the stylish style that's both current and timeless. We've spent years perfecting the perfect shoes to make you the center of attention on every social occasion.
9. Round Toe Mary Jane Mid Heel Shoes
If you're planning a wedding in the fall or winter, this red mid-heel Mary Jane shoes are an excellent choice.
Each and every one of us has an association with this particular pair of shoes. Despite the fact that they have a block heel and a chunky forefoot, these shoes are far too comfy to be classified as heels. Their flashy red color scheme elevates them to the status of statement footwear. As a result, you don't have to worry about coordinating it with your dress.
10. Catherine Red Satin Bow Wedding Pumps
For your big day, you can't go wrong with a pair of red satin Catherine. These bridal shoes' upper satin fabric makes a bowknot look particularly adorable. Decorated motifs are used in the shoe's design. The combination of red bridal pumps with satin, a high heel, and a bowknot creates the ideal set of elegant wedding shoes. The heels have a height of 10 centimeters.
11. Red Sequin High Heels Princess Pump
Do you wish to get a new pair of princess pumps?? They are crafted by hand and really comfortable! These sequins will shine with each stride that you walk down the aisle at your wedding. Each shoe is embellished with a rhinestone bow that is hand-built from scratch and features 5mm siam rhinestones along with gemstones in the middle that catch the eye. The shoes are coated in hundreds of vivid red sequins.
12. Wine Red Sexy Flat Shoes
The finest and highest-quality materials have been used to create these closed-toe flat wedding shoes. They are ideal for formal events such as weddings, dinner parties, and proms. In this piece, pearls are utilized as ornamentation on a piece of fabric.
13. Rococo Baroque Bridal Pumps Parisian Wedding Shoes
You can't go wrong with this choice of Rococo pumps for your wedding. Intricate details adorn every aspect of the design. These items are covered in silk and ribbons. Bows and ribbons decorate the exterior, while the beige lining is seen on the interior.
14. Red Satin Ivory Lace Wedding Shoes
Red wedding shoes like these will make your outfit jealous!! These red satin shoes have a hand-placed ivory lace overlay, a matching handcrafted red bow on the toe, and red satin buttons on the rear to complete the look. On your wedding day, you'll look stunning in these bridal heels.
15. Red Prom Bow Heels
Investing in a red prom heel like this is an all-purpose choice. You can wear it to work, for a trip through the mall, or even for a night out with your pals. The end result would still be appealing. The fashionable bow that is positioned in the front is an unusual style that will help it to stand out from the crowd.
16. Golden Peacock Embroidered Silky Red Wedding Shoes
Shoes are made using traditional methods but with the latest in fashion and functionality. These Silky red golden embroidered shoes are Perfect for ball gowns and wedding dresses with just a traditional feel.
17. Red Embroidery Bridal High Heel
These sparkling gold lame shoes have needlework made entirely of individually hand-selected fresh flowers and buds. Satin, gold lame, and beads are all employed in the design. With regards to heel height, there are four options.
This pair of comfy embroidered red wedding shoes are the perfect choice for you if you want to have a chic and fashionable style on your wedding day.
18. Weddy Brooklyn Red Platform Block Heels Wedding Shoes
These are stunning, comfortable, and very light for their quality. No matter how bad they look next to cigarette heels, lace-up chunky heels always look terrific. And it's a lot more comfortable to stay active as well.
There's the classic red little dress, and you must have the iconic red ankle strap block shoes. It's a beautiful design. It has a sophisticated appearance. Perfection!
19. Vintage Victorian Booties
A glitter heel and a glitter shimmer finish completing the look of these stunning Victorian-style booties, which have been dyed a luscious red. A gorgeous and unique wedding shoe that will make you stand out from the crowd.
20. Red Vegan Mary Jane T-Strap Shoes
The definition of chic is presented here in the best possible way. In addition, the style is so straightforward that it is ideal for wearing to work as well as to parties, whether you are going for a playful casual or formal look. These vegan T-strap shoes are handcrafted and comfortable to wear. The exquisite patterns fit well on your feet and provide relief to the skin thanks to the materials that they are made of.
21. Red Satin Pointy Toe Flats
These satin pointed-toe lovelies are proof that flats do not have to be boring or unattractive, despite their name. Alternately, you might change into these provocative flats before you hit the dancing and wear them with confidence as you walk down the aisle.
Common FAQ On Sexy Red Wedding Shoes For Bride
Can I wear colorful wedding shoes?
Absolutely! There are some ladies who adore the classic aesthetic of bridal white, while other brides may opt for wedding shoes in vibrant and eye-catching hues instead. You have complete control over the decision!
Do I have to wear heels on my wedding day?
It is common for brides to wear high heels, although they are not a necessity. It's time to choose a veil or other hair accessories, jewelry, and lastly the wedding shoes after you've picked out a dress for the big day. 
Final Thoughts
When it comes to fashion trends, red is one of the most sought-after colors in the world. An eye-catching shade of red. Wedding shoes in red are an unconventional choice, even among those who adhere to the traditional view of marriage. As a result, brides of various ages and backgrounds are embracing the trend for these. Even if your wedding is set around Christmas time, these shoes are the ideal alternative for you to choose. We applaud those brides-to-be who opt for a non-traditional color for their wedding footwear by choosing a shade of red rather than the more common white or beige.