Since you were a little girl, you've fantasized about your wedding day. Most likely, you've tried on your mother's bridal veil, thought about your wedding gown, and even visualized your dreamy wedding hairstyle. However, when the big day approaches, you may find yourself stumped as to how you want to style your hair. DIY (Do It Yourself) Wedding hairstyles isn't something every bride desires but ou can do lots of simple wedding hairstyles yourself. There is a hairstyle here for everyone, whether you prefer braids, updos, or curly hair.
Short Hair DIY Wedding Hairstyles That Are Easy To Do
Do you have short hair? Short hair doesn't mean you can't have a beautiful wedding hairdo. There's a hairstyle for everyone, whether you want straight or curly hair, waves or braids, so you're sure to discover something you like. Hair accessories like pins, headbands, veils, and tiaras are perfect for short hair!
1. Half Up Half Down For Short Hair
Half-up, half-down hairstyles are timeless. Brides love these hairstyles because they are both fashionable and functional. Half-up hairstyles aren't just for brides with long hair. Whether you have short, medium, or long hair, a pinned-back hairstyle will work.
A lot of these looks can be achieved with hair extensions, so don't worry if you don't have thick, beautiful locks like those in the inspiration photos below. However, despite the fact that hairdressers aren't able to perform miracles, they can still make a difference with their business know-how, tools, and techniques.
If you like half-up, half-down hairstyles, then this DIY from Emma Loves Weddings is definitely for you!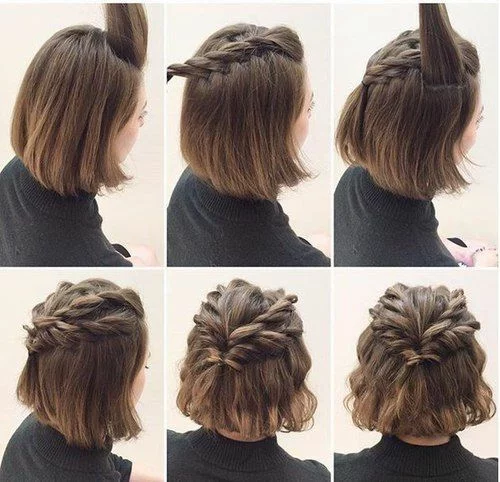 2. Rolled Updo Wedding Hairstyle
This is a new fashion, but it's nothing revolutionary; it's a rebound of a look popular in the 1890s. The DIY of this updo is easy to put together.
Medium Hair DIY Wedding Hairstyles That Are Easy To Do At Home
Looking for medium hair wedding hairstyles that are simple to make? There are several styles to choose from, including crown braids, half-up, half-down, and waterfall braids with cascading curls. To style your hair, all you need is a nice setting spray and some styling tools.
3. Romantic Braided Updo Wedding Hairstyle
When it comes to braids, are you still scrolling through our list thinking about them, but you're the type of person who loves to view and examine as many possibilities as possible before deciding on one? This tutorial from Emma Loves Wedding shows you how to braid your hair into an updo instead of letting it cascade downward as most people do.
4. The Side Chignon Wedding Hairstyle
This relaxed, breezy look is both trendy and timeless. Low-swept curls evoke a classic chignon, but an asymmetrical cut creates a playful vibe.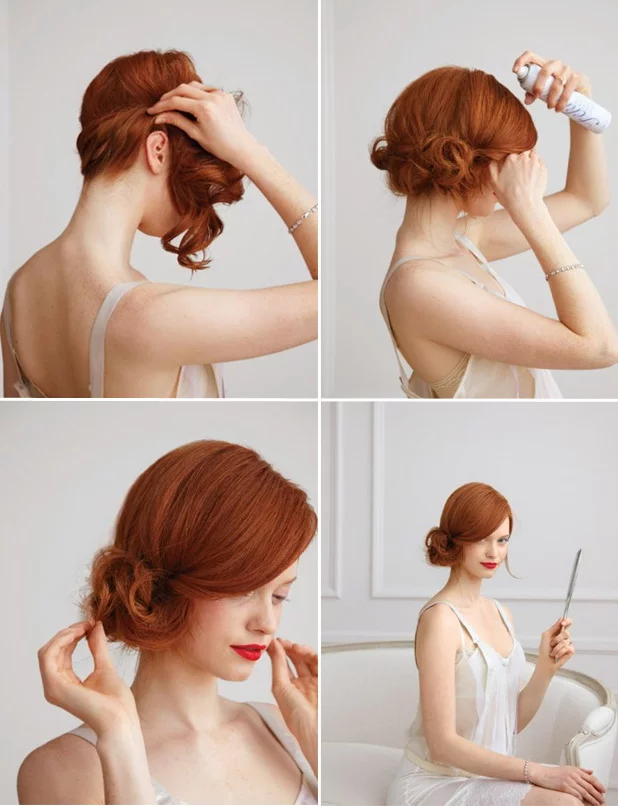 5. Braided Halo Wedding Hairstyle
This is the one hairstyle you should try right now if you want to feel more confident and stylish. You can't go wrong with something this stylish. Why? Because you don't need a formal dress to pull off this adorable halo braided hairstyle.
6. Wedding Hairstyles with a Classy Low Bun
Wedding hairstyles like low buns and chignons are fun and imaginative. This style is perfect for a beach or boho-chic wedding theme. This style also works beautifully with long, flowing bridal gowns.
For a wedding or other formal event, this hairdo is a popular choice. For a reason; it gives you the appearance of having stepped straight out of a fairy tale.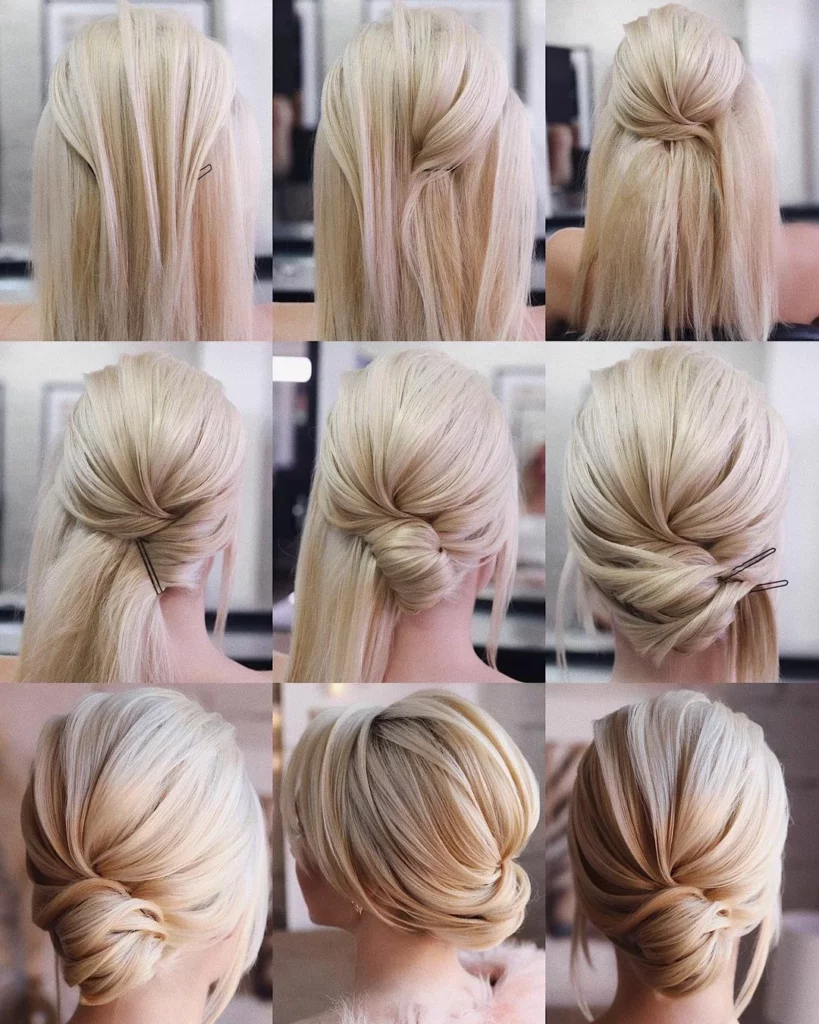 7. Beautiful Low Side Bun Wedding Hairstyle
Hair of any type can be styled into a pretty, simple side bun. A variety of options allow you to tailor it to any occasion, from a day at the beach to a more formal event. Buns with carelessly pinned hair and free-hanging wisps are commonly associated with the term "messy."
Style your hair in a side bun for a laid-back day or night out. For a business meeting, a wedding, or any other formal function, you can style your side bun in a more polished manner.
8. French Braid
The classic look of French braids will never go out of style. French braid wedding hairstyles, on the other hand, are virtually limitless. Because of their adaptability, French braids are an excellent choice for practically any kind of bridal look.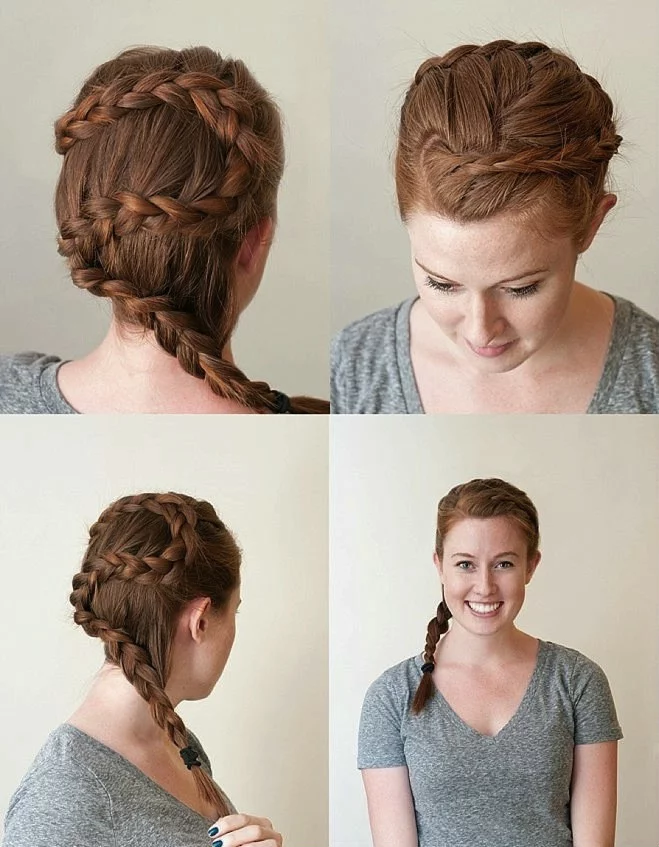 9. Loose Braided Updo
Some ladies avoid updos because they believe their hair is too fine to play on top of. If you want a bigger appearance, all you need to do is braid loosely and draw the braids' edges together.
This is one of the simplest and most beautiful wedding hairstyles. Your wedding guests will assume you spent a lot of time styling it, even if you didn't. Shorter hair can benefit from this style, too.
10. Wedding Updos With Braids
A wedding updo with braids is a fashionable idea, and there are many different variations available to keep your hair looking picture-perfect all day long. Although they are best suited for more formal weddings, braided updos can also be worn in casual or outdoor weddings. To make it even more sophisticated and fashionable, embellish it with some ribbons and some baby's breath.
Long Hair DIY Wedding Hairstyles That Are Simple To Do
Long hair, like medium-length hair, has a plethora of alternatives for simple wedding hairstyles. With your hair down, you can wear it in a variety of ways: you can choose from a variety of styles such as loose curls, braids, and ponytails. Updos include chignons, buns, and even faux hawks, which are all now fashionable.
11. Flower-Decorated Twist On The French Braid
Those who are looking for a romantic hairdo for their wedding would love this one. The first step is to create loose curls all over your head. After that, make a segment in the top back and twist and bend it with a bobby pin. The center of attention will be a twist in the form of this. Twist and pin the hair from both sides, crossing it over the center.
Replicate step three, gathering the hair from both sides and tucking it around the loop you produced. Repeat this process until all of your hair has been used. After you've finished braiding and pinning the rest of your hair, you're done! Adding a DIY flower comb is a sweet way to complete the appearance.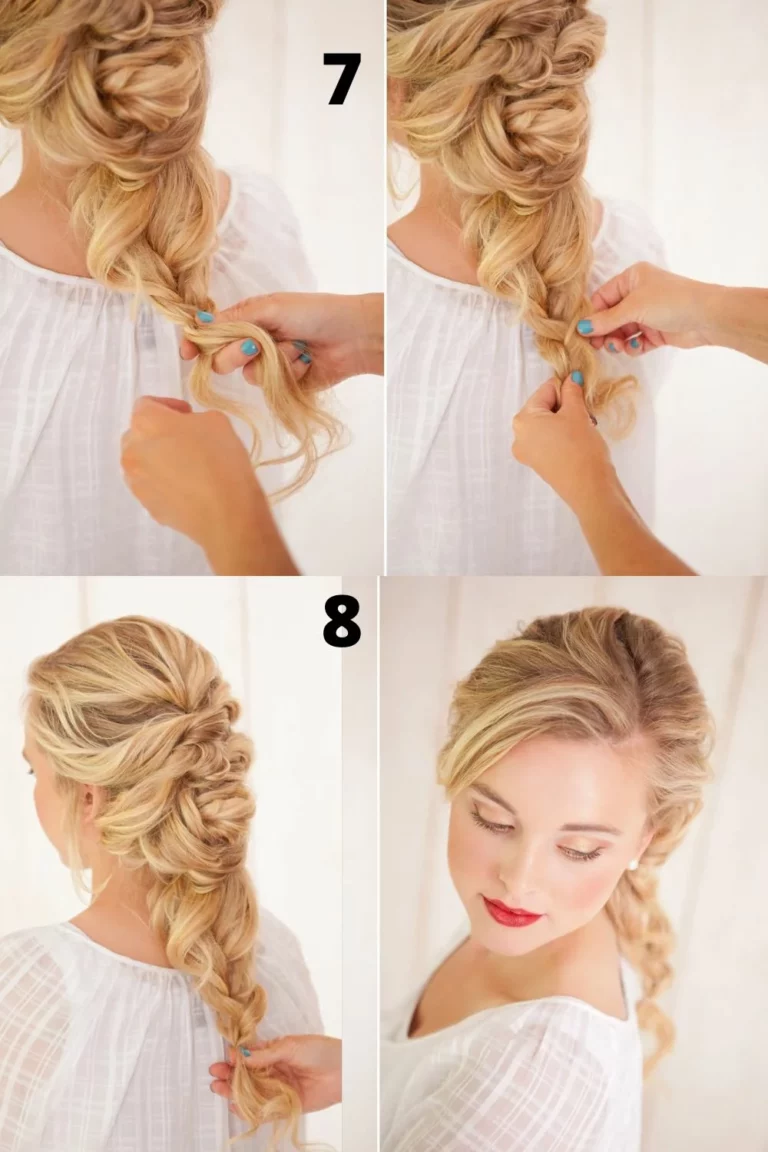 12. Easy Twist Updo
Looking for a step-by-step guide to braiding updo? Ponytails, crowns, and headbands are all options for braids. Braids can also be used to create elegant buns, as seen in this hairdo. Please have a look at this one just for you.
In the summer, this braided updo is a terrific hairstyle for weddings and summer festivities!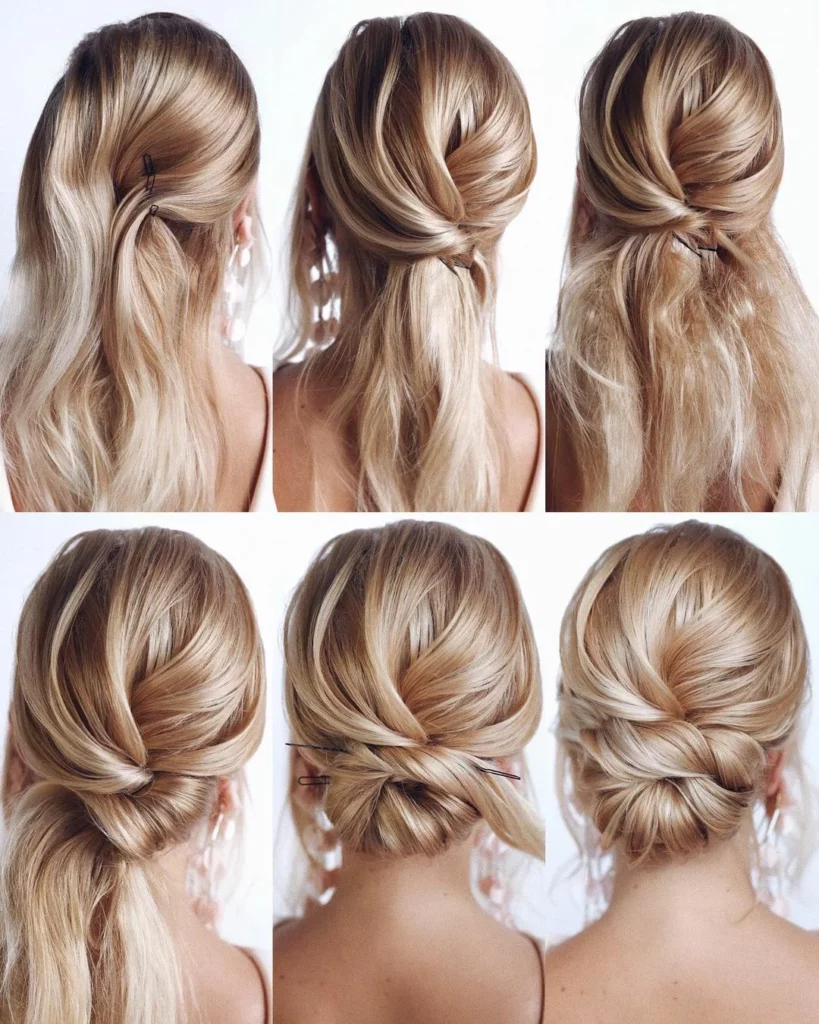 13. Beautiful Curly Updo Wedding Hairstyle
You can never go wrong when choosing an up-do as your wedding hairstyle. As you dance the night away, your hair won't fall out of place. So you get a salon-quality result every time. Not a lot of effort goes into creating this lovely hairdo!
Splitting the hair into parts is the first step in the process. The best way to achieve complete volume in your hair is to tease the roots at the crown of your head. Next, use a transparent elastic band to secure it. Make a similar up-do as depicted in the picture, and you're ready to go!
In order to fix the ends of the hair, the bobby pins are useful. Floral hair accessories can also be added to the base of the lifted portion.
14. Faux-Hawk French Twist Wedding Hairstyle
When it comes to updos, many women turn to the French twist hairdo as their go-to option. Even in Ancient Greece, some believe this haircut was prevalent among the Greeks.
This look can be compared to a French twist that has been dressed down. This faux hawk twisted updo is a lot more laid-back and carefree than others. Create loose curls using a curling or flat iron if your hair isn't naturally wavy to get that textured effect.
15. Twisted Half Updo Wedding Hairstyle
Twist Braided hairstyles are versatile and easy to do. You can style your hair in a variety of ways, including letting it loose but keeping it away from your face. It's up to you whether you want to wear your bangs or fringe loose or pinned back with bobby pins.
A twisted wispy half updo is the ideal hairstyle for any special occasion, including prom and bridesmaids' dresses & looks great on all hair types, even wavy or straight.
16. Top knot In A Simple Way
You've got long, straight hair, but it's also thick, and you're looking for a style that can truly take advantage of those attributes. Perhaps a lovely rolled high bun, like this one from Emma Loves Weddings, is just what you're looking for!
The top knot is a classic hairstyle that never goes out of style. With a modest wedding gown, this is a wonderful way to add some flair. Beads were added for an extra touch of whimsy, which we think is adorable.
17. Loose Braided Updo
If you want a boho vibe for your big day, the loose braided updo is the best DIY hairstyle for you.
18. Fast French Roll
No matter how many decades pass, the modest French roll remains a staple of each evening gathering. With medium to long hair, this classy style is simple to achieve. Simply loosen a few strands to soften the look and make it look less flawless.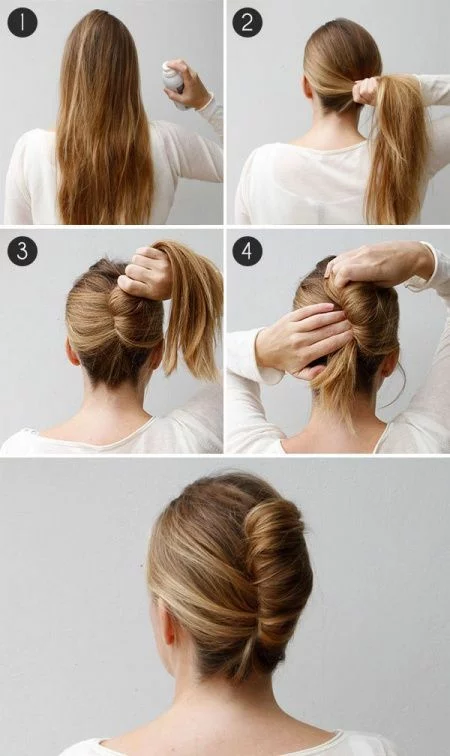 19. Chic Braided Chignon Hairstyle
This chic braided chignon hairstyle is appropriate for weddings, parties, and other special events, as well as for everyday updos.
20. Quick And Easy Braided Updo
When thinking about what to utilize in your style, you have a lot of options available to pick from, and one of those options is a braid.
Experiment with a variety of approaches so you can get a sense of which ones you like most. Some people may adore the traditional French braid, while others may prefer a more elaborate version that makes use of a variety of different techniques.
However, this is precisely what makes braids so appealing—there is a style to suit every individual.
Images Via: We heart it / Martha Stewart / Instagram / photography by Hannah Letinich / Pinterest / restylepro.com / green wedding shoes/ vk.com/ tonyastylist
Common FAQ On Best DIY Wedding Hairstyles
Can I do my wedding hair myself?
Every day, you put effort into your hairstyle. This happens more than once a day, don't you think? Because of this, you—yes, you—possess the skills necessary to perform DIY wedding hairstyles. You simply need some inspiration and a little practice, and you'll be ready for the big day in no time.
When it comes to braiding, how short is too short?
Braids require hair that is at least 2 inches long. It is, nevertheless, better if it is 4-5 inches. Braiding short hair takes a little longer than braiding longer hair.
Should I have my hair up or down for the wedding?
One of the most essential aspects in selecting whether your hair should be up or down lies with the neckline of your wedding dress. "half-down hair looks charming and feminine while still showcasing your neckline if you're wearing a strapless dress."