Do you want to save money on your wedding invitations? You've come to the right place! Weddings are costly to plan & are expensive, no matter what type of venue you choose. No matter how tight your budget may be, planning the perfect wedding will cost you money, and it may add up quickly. Sadly, most of your cheap wedding invites will end up in the trash after the big day. Even if you and the rest of your family decide to keep one and use it as a work of art, your friends and other family members won't want it.
Learn how to save money on wedding invitations by using these inventive ideas in this post. We'll show you how to save money on your wedding invitations, from the smallest invitations to the cheapest shipping.
How to Save Money On Your Wedding Invitations?
Here are 11 of our best tips for saving money when creating your own wedding invites.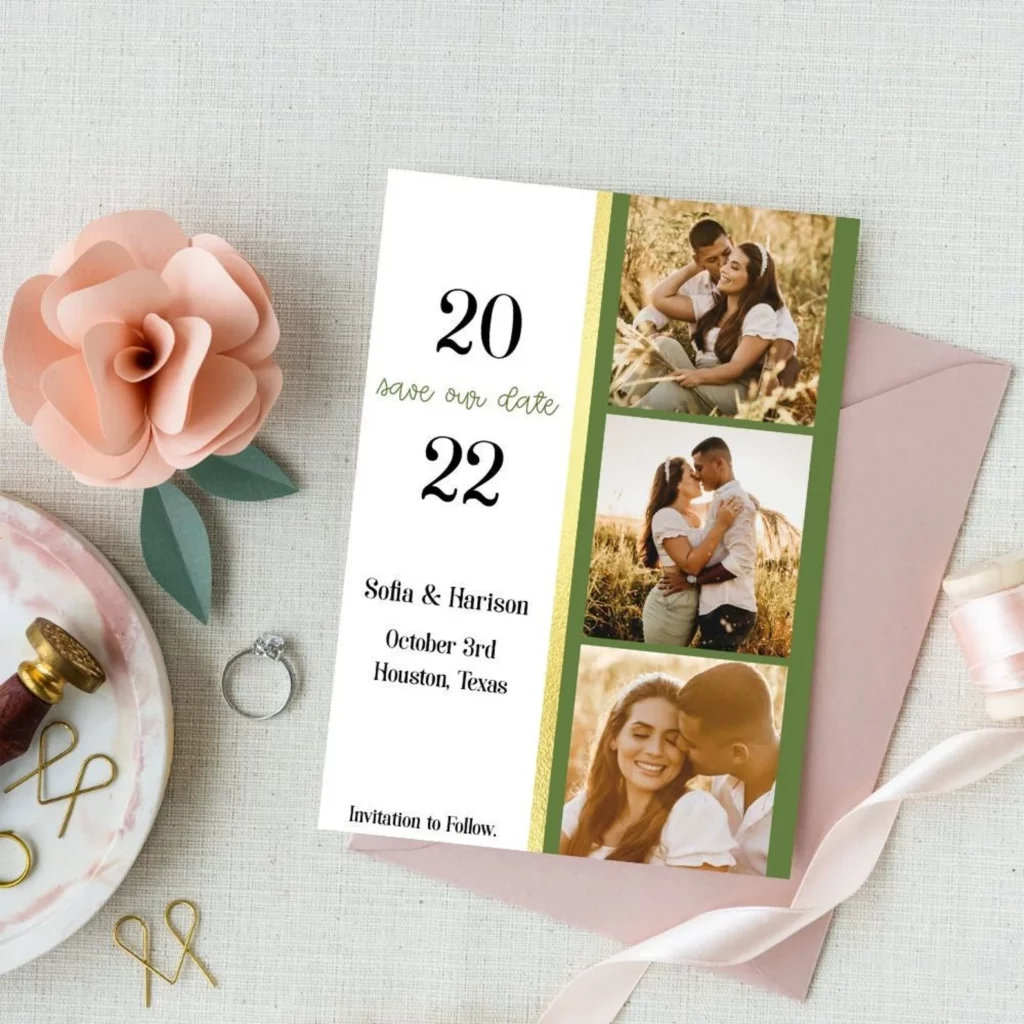 1. Take It To The Next Level By Going Digital
Going digital with your wedding invites is the most cost-effective choice. A traditional wedding invitation would often consist of a number of various elements, such as an envelope, an insert, and a variety of other materials, in addition to the printing and mailing charges. Rather than using more expensive printing methods like letterpress or engraving, stick to digital and offset printing.
See also: 10 Creative Wedding Invitation Wordings Ideas
Nowadays, a growing number of couples are opting to send out their wedding invitations digitally rather than print them off. Digital invitations are not only less expensive, but they also make it simpler for visitors to RSVP with only a few mouse clicks! With a few clicks of the mouse, you may choose a stunning template that matches your wedding's theme, personalize it and send it out electronically to your guests.
Free online invitations can be created with Evite Post alternative if you enjoy the notion of email invitations but lack the creativity to construct your own electronic invitation. Their invitations are simple to make, and guests will have no trouble responding to them.
2. Make Sure to Proofread Your Content
The wording, fonts, and colors of your wedding invitation should all be checked before you order it. Keep in mind that any mistakes or errors in the wedding information may necessitate additional costs for reproducing the invitations.
In proofreading, problems such as grammatical errors or misspelled words are detected, as well as the inclusion of all necessary information. The last thing you want on your wedding invitations is a grammatical or typographical error. To avoid blunders like this, you should always proofread your work.
Double Check:
all spellings, even your names!
street address
Web address
ceremony & reception
city & state
dates & times
singular vs. plural
3. Make a Website For Your Wedding
It's possible to save money on your wedding invitations even if you don't go totally digital. Using a wedding website to connect with your guests is an excellent choice.
Recommended: 18 Gorgeous Fonts For Your Wedding Invitations in 2022
The fewer extras you include in your mail-in wedding invitation suite, the less expensive it is to print and distribute. Setting up a wedding website with all of the relevant information will save you money in printing and shipping costs.
Instead of putting all of the wedding-related information on the invitation, you may place it on your website and only include the essentials like the date and venue of the wedding.
4. Send a Single Invite to Whole Family
Another technique to save money on wedding invites is to keep track of how many invitations you are sending out and to Keep in mind that you don't need to send out a unique wedding invitation for each attendee! You can save money by sending out single invitations for couples, families, and any guests who bring along a plus-one.
5. Order 10% More Invitations
In the beginning, you may not remember to invite someone who is very important to you. Ordering a few more invitations may seem expensive and time-consuming, but it will save you money in the long run.
Alternatively, the postal service may have lost one and you'll have to resend it. It's more convenient and cost-effective to order more items with your initial purchase rather than place a minor order afterward.
6. Customize Your Own Invitations
Creating your own version of a design you like is a great way to save money. Use the design concept to create your own invitation. Visit a stationery store and play around with the idea there, too (along with your own card stock). Wedding invitations can be personalized for you by the company.
7. Home-Print Your Invitation
Your do-it-yourself wedding invitations can be printed at home with relative ease using a simple inkjet or laser printer. Simply make sure that you have a sufficient amount of ink!
8. Simplicity Means Cost Saving
Trying to be creative with your envelope costs you more money. To your surprise, square envelopes are more expensive to ship than rectangular ones. The square ones, on the other hand, cannot be sent through the postal machine and must be hand-stamped. To save money, go with a plain, standard-sized envelope.
Attendees at a wedding are more interested in what's inside the envelope than the outside. After opening the envelope, guests are likely to throw it away. Keeping this in mind, you may want to choose a plain but stylish envelope. This will save you money that you can use toward other aspects of the event.
9. Do It Yourself (DIY) Wedding Invites
With the help of Google and YouTube instructions, DIY projects are now easier than ever—especially when it comes to DIY wedding tasks. Creating your own wedding invites is the cheapest option if you're wanting to save money. You can personalize your wedding invitations by making them yourself.
You have complete creative control over the wedding invitation design and creation, and you may make budget-based alterations at any time during the project.
10. Send Postcards
In addition to saving money on paper and ink, postcards can be used for a variety of purposes, including RSVP cards. There are a number of websites where you may buy custom postcards, such as Etsy and Zazzle.
11. Try Low-Cost Wedding Invites Websites
Saving money on wedding invitations doesn't mean compromising on quality. It's all about knowing where to go!
For the budget bride, various websites, such as Minted Weddings, offer variety of options to choose from, such as four-panel invitations and all-in-one invitations. They are ideal for couples who are wanting to save money on wedding invitations.
What is the best free online invitation, maker?
For free internet invitations, Punchbowl, Evite, and Greenvelope are the best options (and they're all very similar). You can pick from a plethora of "fun" and "beautiful" designs, then import your guest list to complete the process.
How can I make an invitation online for free?
To create an invitation, follow these steps!
Open Canva in a new tab or window. Do a search for "Invitation" in Canva's search bar. Find the ideal template for your needs. Use this information to help you narrow down your search…. Make use of graphics and text… Customize it a little more…. You may choose to print or share this page.
Is it cheaper to print my own wedding invitations?
Printing your own invites can save you money, but that doesn't guarantee it will be any faster than having them printed by a professional. Be sure to allow yourself time, grace, and patience when printing at home, because it can get a little tricky.
When should I send out the wedding invitation?
Six to eight weeks before your wedding, send out your invitations to all of your guests. Your guests should receive their invitations three months before the wedding date if you're having a destination wedding.
Final Thoughts
It's a fact that weddings can be somewhat expensive. The trick, of course, is in the details when it comes to sticking to a wedding budget. That stated, one of the most significant parts of wedding planning is drafting wedding invitations. There are various decorative elements and interesting methods to let your guests know about the big day.
You can have a lovely wedding on a budget, from saving on the invitations to selecting an affordable venue. If you're feeling bad about saving money on the wedding ceremony and reception, just think about how you may utilize the money you save to start a life together.
One final piece of advice: don't wait until the last minute to order your invitations and stationery. Give yourself lots of time to find out exactly what it is that you need, establish a budget, investigate your options, and make a decision on which one to go with. This will assist you in avoiding making rash purchases and will make it possible for you to obtain the most value for your money.
Image Via: libertiespapers.ie / doodleism_ / Etsy