Millions of people all over the world watched the royal wedding of Meghan Markle and Prince Harry on May 19, 2018. The Meghan Markle wedding ring, which was exquisitely crafted and rich with meaning, was one of the most talked-about details of the day. In this article, we'll explore the intriguing history of royal wedding rings, providing you with information and ideas to help you choose the perfect wedding band for your big day, along with guidance on acquiring a stunning replica of Meghan Markle's remarkable royal wedding ring.
See also: What Is a Promise Ring? Exploring its True Meaning and Purpose
5 Interesting Facts About Meghan Markle's Unique Wedding Ring

Welsh gold composition
Gift from Queen Elizabeth II
Thin and subtle design
Crafted by Cleave and Company
Complements her engagement ring
The History Behind Meghan Markle's Wedding Ring
Meghan's wedding ring is special because it follows a long-standing British royal custom that dates back to 1923. For generations, the wedding bands of the British royal family have been made of gold from Wales' Clogau St. David's mine. This remarkable gold is frequently combined with other metals to form the alloy known as Welsh Gold, which is said to be some of the most priceless gold in the entire world. Following this proud custom, Meghan Markle wedding ring is made of this precious Welsh gold.
Meghan Markle's wedding band was a gift from Queen Elizabeth
During their wedding, Prince Harry gifted Meghan a wedding band made of pure Welsh gold from Cleave & Company. This precious piece was a present from Queen Elizabeth and holds great significance for the royal family. The director of Cleave & Company publicly stated that they would not produce any duplicates of Meghan's ring; however, they are willing to collaborate with clients to design their own distinctive rings.
What does Meghan Markle's wedding ring look like?
Meghan Markle's wedding band made of Welsh gold, is a very elegant and delicate piece of jewelry. It features a thin yellow gold band with a textured surface. Its minimalist design complements Prince Harry's ring, which is a textured platinum band.
The simple yet refined design complements her engagement ring, which boasts a trio of diamonds—a center stone sourced from Botswana surrounded by two smaller stones that belonged to Princess Diana.
Symbolism Behind Trio of Diamonds
The Meghan Markle engagement ring features three stunning diamonds, each with its own unique significance. The center stone, from Botswana, represents the couple's shared love for Africa and their commitment to wildlife conservation. The two smaller diamonds, from Princess Diana's personal collection, not only serve as a reminder of Harry's late mother but also symbolize the union of their past, present, and future lives.
During a televised interview, Prince Harry spoke about the engagement ring he had given to Meghan Markle. "The ring is obviously yellow gold because that is her favourite and the main stone itself is sourced from Botswana. The little diamonds either side are from my mother's jewellery collection to make sure that she is with us on this crazy journey together."
Meghan Markle's Anniversary Ring: An Eternity Band
Meghan Markle started wearing an eternity ring in 2019 after the birth of her and Prince Harry's first child. The inside of this band is decorated with the family's birthstones. An eternity band's stones are "channel set," or arranged in a row between two metal walls to form a channel.
How to Get a Replica of Meghan Markle's Royal Wedding Ring
The engagement ring can be whatever three-stone design you choose, but the most common ones have a cushion-cut center stone, two smaller stones on either side, and a pavé band made of yellow gold or white gold and platinum. Make sure the side stones are one-third the size of the center stone, as is the case with Meghan Markle's ring; her main diamond is 3 carats, and the side stones are each 0.95 carats.
Your stunning engagement ring deserves to be the star of the show, so complement it with a simple yet elegant yellow gold wedding band. Finally, add an eternity ring with channel-set round diamonds to represent an endless journey of love to finish off your classy design.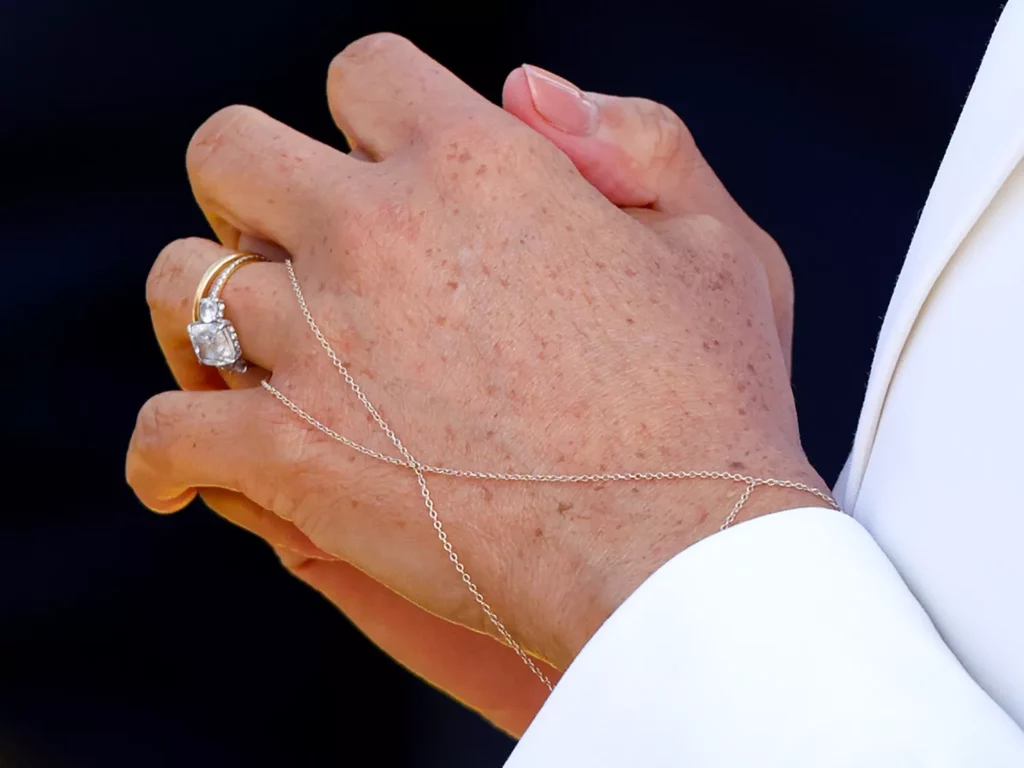 Meghan's Markle-inspired Engagement Ring and Wedding Band
Both Meghan Markle's engagement ring and wedding band have won the hearts of numerous fans across the world for their timeless beauty and sophisticated design. These classic items, known for their faultless design and superb craftsmanship are now available at low prices, allowing even the commoner to enjoy the joy of feeling like a royal bride on her big day.
See also: How Much Should You Spend On Engagement And Wedding Rings?
Conclusion
As one of the most stylish members of the Royal Family, Meghan, Duchess of Sussex, always looks stunning when she wears jewels from her remarkable collection. The meanings and memories associated with each item are dear to her. The sparkling engagement ring and matching wedding band are tucked away among these fine pieces. Both pieces are made of yellow gold, which is Prince Harry and Meghan's preferred metal. Only the wedding band itself is made of valuable Welsh gold, a testament to the wearer's lineage. Create your own magical version of Meghan Markle's wedding ring to wear on your special day.