The value of an engagement ring lies not just in its price tag. While many pieces can capture the eye with their sparkle and scintillation, not all hold the mystery and allure that a vintage engagement ring embodies. These timeless treasures, harking back to a bygone era, are reminiscent of romance and nostalgia and each one carries a rich history and story of its own, waiting to be discovered.
Whether you're beginning your search for the perfect engagement ring or have a beautiful heirloom in mind that you are considering as your proposal piece, this article will explore some of the reasons why you should invite a perfect vintage engagement ring into this next chapter of your love story.
Artistry and Craftsmanship
Many old-fashioned rings were made by skilled artists during important historical eras. These rings, crafted from the mid-1800s to the early 1900s, are just as beautiful now as when they were first made. During the Victorian era, rings made of yellow gold with a halo setting became popular for engagements and weddings. In the Edwardian period, rings often had detailed floral designs in platinum. The famous Art Nouveau and Art Deco periods introduced rings with precise, geometric, symmetrical shapes and sometimes colored gemstone. In the retro era, rings in yellow and rose gold became trendy again, and white gold started to be as popular as platinum.
In an age of modern manufacturing and mass production, many contemporary items of jewelry lack the traditional techniques and artistry that make vintage style engagement rings so unique. From milgrain and cannetille to filigree and repoussé, these rings represent visible pieces of art that showcase their appreciation for the dedication and ingenuity of jewelry makers from another time.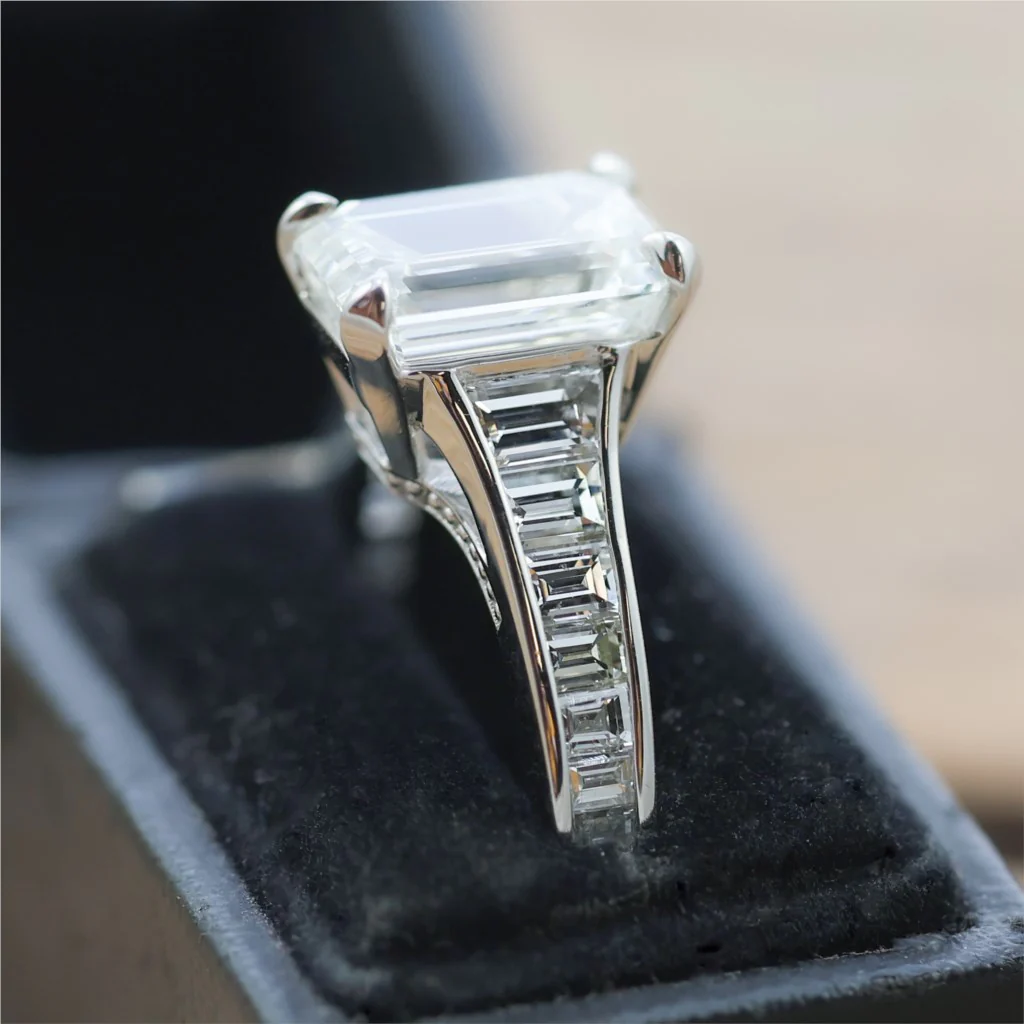 Historical Significance
Having witnessed its own romances and love stories and traveled across many oceans, each vintage ring is steeped in a rich history, giving it a life of its own. However, the passage of time does not diminish its worth or significance, but instead celebrates it, as each new owner embraces it as part of their ongoing journey of love and commitment.
Each ring has its own tale to tell, having been worn on the hands of generations before. Some may even have graced those of royalty and the aristocracy imbuing these rare artifacts with an added historical significance that is reflected through each subtle scratch, imperfection or flaw.
Unique Vintage and Antique Engagment Ring Designs
If you're searching for a one-of-a-kind ring to propose with or just to add to your collection, vintage-inspired engagement rings are a great choice. Whether you're drawn to a sparkling halo setting, an art deco style, a retro era look, or a timeless simple solitaire, create your own story by choosing the ideal antique engagement ring to represent your future joy and happiness.
The Timeless Charm of a Platinum Filigree Engagement Ring
When love is as deep as history itself, nothing says forever like a antique platinum engagement ring. This modern platinum filigree ring is a stunning nod to the past, featuring a breathtaking 3.53-carat old European cut diamonds that shines as brightly as your future together. Surrounded by an estimated 1.35 carats of brilliant round-cut diamonds, this ring is a true masterpiece that has been handcrafted to stand the test of time.
Vintage Bezel-Set Engagement Ring
A beacon of classic sophistication, this platinum engagement ring with a 4.17-carat European cut diamond is a testament to enduring style. Its bezel setting not only secures the precious gem but also highlights its brilliance, making it an ideal symbol of a love that's meant to last forever.
The Art Deco Diamond & Sapphire Engagement Ring
This stunning vintage Art Deco engagement ring features a 2.61-carat European diamond as its centerpiece, with additional diamonds and deep blue sapphires providing sparkling accents. Blending royal elegance with the meticulous detail of platinum filigree, this sign of nobility is fit for the one who exudes timelessly elegant grace in each gesture.
The Victorian Sapphire & Ruby Engagement Ring
A fusion of vibrant luxury, this antique Victorian 14kt yellow gold ring presents a cushion old mine cut diamond, flanked by sapphires and rubies. It's an exquisite choice for the bride-to-be with an eye for fashion and a heart for history.
The Platinum Trio Wedding Set
This Art Deco wedding set in platinum presents a harmonious trio of rings, featuring a round transitional cut central diamond, complemented by the sparkle of baguette and old single cut diamonds. It's the perfect symbol of eternal love for a couple who values both tradition and modernity.
Modern-Vintage Diamond Ring With Ruby Radiance
This ring marries modern design with vintage charm, centering a 0.40 carat mine cut diamond encircled by mine cut diamonds and calibré cut rubies. It's a perfect symbol of love for the bride-to-be who cherishes both contemporary style and the romance of the past.
Art Deco With Geometric Glamour
This stunning Art Deco engagment ring features a 1.00 carat diamond at its center, surrounded by six baguette diamonds in a geometric pattern. If you love traditional style with a contemporary twist, this is the piece for you.
Picture-Perfect Proposal Vintage Ring
This platinum engagement ring, featuring a 0.80 carat round transitional cut diamond framed by baguettes and old single cut diamonds, is designed to shine in your engagement photos. Its vintage charm ensures that every snapshot of your proposal is as timeless as your love story.
Vintage Emerald Engagement Ring
With its majestic 1.361-carat emerald, embraced by a court of baguette and round diamonds in 18kt yellow gold, this vintage ring is fit for royalty. A treasure designed for a princess bride-to-be, it melds the grandeur of the past with the promise of a future together.
The Mine Cut Diamond Engagement Ring
This classic and dazzling engagement ring features a 1.61-carat mine cut diamond set in 14kt white gold, surrounded by 0.54-carats of round diamonds. It's a handcrafted homage to eternal love, offering a daily sparkle that's as enduring as the bond it represents.
Antique Round Engagement Ring
A symbol of sophisticated love, this 2.50 carat antique round engagement ring captures the essence of elegance for the bride-to-be with a penchant for classic beauty. Its timeless design promises to be a constant reminder of the eternal commitment it represents.
Sapphire Filigree Art Deco Ring
This Art Deco platinum ring, adorned with a 1.79 carat European cut diamond and sapphire details, is a masterpiece of filigree artistry. It's the ideal combination of glitz and elegance for a proposal as special as the love it honors.
Golden Glow Emerald Cut Engagment Ring
This 18kt yellow gold engagement ring, crowned with a 2.64 carat emerald cut diamond, reflects the warm hues of fall, making it a stunning complement to your autumn wedding colors and a radiant highlight in your engagement photos.
An Ethical Choice
For many couples, their choice of engagement ring should also align with their values and principles when it comes to the environment. Most traditional engagement rings today contain diamonds or precious gemstones that have been extracted from deep within the Earth. Not only do these methods deplete the planet's natural resources, but the mining of such jewels can also have many negative repercussions, including deforestation, human rights violations, pollution, as well as the destruction of local ecosystems.
In contrast, vintage engagement rings can offer couples a far more ethically viable choice that supports sustainability and conservation of natural resources. By recycling jewelry in this way, vintage diamond engagement rings can act as a testament to the love between two people whilst also being emblematic of their love of the environment and the planet as a whole.
By considering these reasons in support of vintage engagement rings you are well-placed to pick out a piece that not only encapsulates these meaningful themes but also stands out from the crowd.