Beyoncé, the globally acclaimed singer and fashion icon, is celebrated for her exquisite style and trendsetting fashion choices. Her wedding ring, a symbol of elegance and sophistication, stands out as a testament to her impeccable taste. In this comprehensive blog post, we'll delve deep into the allure of Beyoncé's wedding ring. Discover the value, intricate design and the unique story behind this iconic emerald-cut diamond engagement ring. Known for its breathtaking design and astonishing price tag, Beyoncé's ring is often compared to other legendary pieces of jewelry in Hollywood. Join us as we explore the details of this magnificent piece of jewelry, a true epitome of luxury and romance.
See also: Meghan Markle's Wedding Ring Style
The Worth of Beyoncé's Wedding Ring
Beyoncé's wedding ring is truly a symbol of luxury and elegance. According to reports, a renowned jeweler Lorraine Schwartz, charged an eye-popping price for this stunning piece of jewelry. Although the precise amount is yet unknown, industry sources estimate it to be worth roughly $5 million. It only makes sense that Beyoncé's ring reflects her majesty given that she is one of the most well-known and talented performers of her generation.
Let's explore how much you should spend on engagement and wedding rings. It's not about matching a societal standard but aligning with your personal journey. The value of a ring isn't in its price but in the love it represents. Remember, the best choice is one that resonates with your heart and fits your financial reality. Let love, not just luxury, lead your decision
Beyoncé And Jay Z Relationship
Did you know that Beyoncé and Jay Z's bond goes way back to the late '90s? It's been a treat watching them evolve as artists and as life partners over the years. Fun fact: even before they started dating, Jay Z once mentioned in passing that he'd love to marry Beyoncé someday. Talk about destiny, right?
Keeping their romance under wraps was always important to this iconic duo. For a while, they wanted the world to see them just as co-workers. But sharp-eyed fans picked up on the little glances, the shared moments. Remember the sparks in the 2003 "Crazy In Love" video? And then, in 2004, the Video Music Award rolled around and the power couple walked the red carpet together. The secret had been revealed.
On a memorable night, September 6, 2008, Beyoncé graced the Fashion Rocks event at New York's iconic Radio City Music Hall. While her style and grace were always on point, that evening, it was her dazzling 18-carat emerald cut diamond ring that had everyone's attention. Queen Bey had subtly introduced the world to her engagement ring.
Beyoncé and Jay Z secretly exchanged "I dos" in a private ceremony in 2008. Even with their global stature, they've skillfully maintained a balance between their private life and the moments they choose to share, like the cherished arrivals of Blue, Ivy and the twins, Rumi and Sir Carter. They have been there for each other throughout the years, combining their talents for chart-topping songs and outstanding live performances as a duo.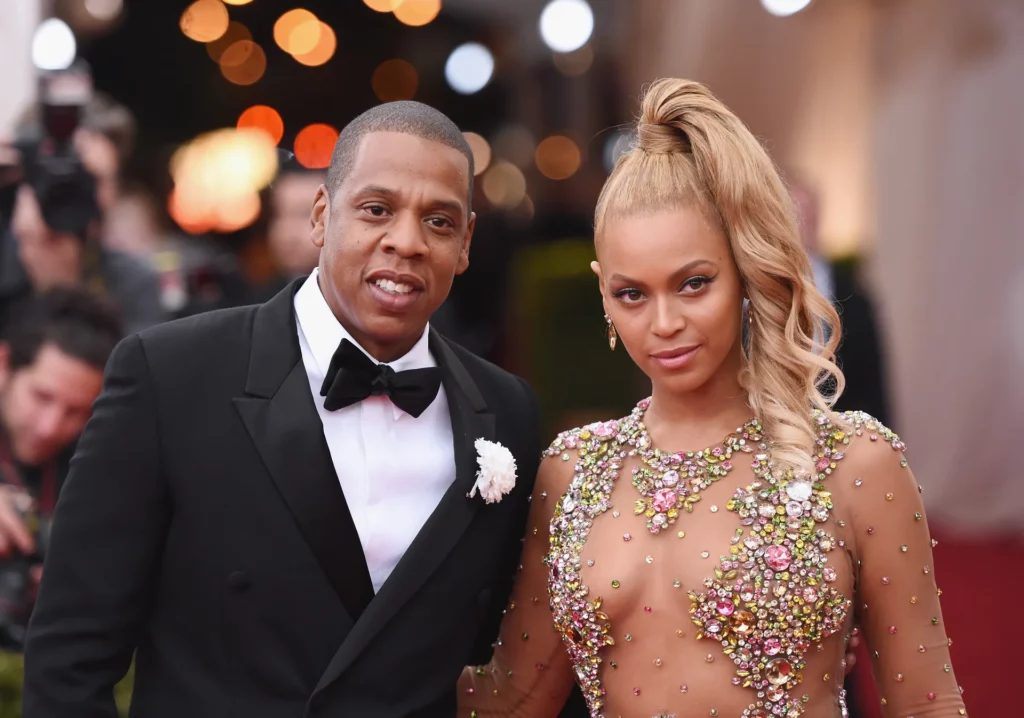 A Close Look at Its Intricate Design
The design of Beyoncé's ring is nothing short of extraordinary. It showcases a mesmerizing combination of elements that make it a true work of art. Let's take a closer look at what makes this ring so special.
Center Stone: The Eye-Catching Star
The ring center stone is a magnificent 18-carat emerald cut diamond that is beautiful throughout. That is 18 times large diamond than the typical size for an engagement ring. The diamond set is enormous, and it is also completely flawless. Diamonds with the best clarity grade are called "flawless." There are zero defects visible at any magnification. This type of flawless diamond is extremely uncommon and valuable because it makes up only around 1% of all diamonds. VS2 clarity is the ideal grade for an eye-clean diamond for most individuals but Beyoncé isn't for most people.
Split Shank and Pavé Set Diamonds: A Delicate Touch
The band of the ring features a split shank design, adding a unique twist to the overall look. This design detail not only makes a statement but also intricately magnifies its allure. Embellishing this split are pavé-set diamonds, each precisely positioned to catch and reflect light in the most mesmerizing way. The combination of the split shank and pavé set diamonds adds a touch of glamour and sophistication to Beyoncé's ring.
Lorraine Schwartz: The Mastermind Behind the Design
Beyoncé and famous jeweler Lorraine Schwartz worked together to create the superstar's engagement ring. Known for her exceptional craftsmanship and innovative designs, Schwartz has created pieces for numerous celebrities and A-listers. Her close relationship with Beyoncé and Jay Z made her the perfect choice to bring their vision to life. Schwartz has created a ring with her extraordinary creativity that precisely captures Beyoncé's distinct style and personality.
The Price Tag: How Much Did Jay Z Pay for Beyonce's Ring?
Jay Z reportedly spent around $5 million on Beyoncé's 18-carat emerald-cut engagement ring, crafted by the esteemed jeweler Lorraine Schwartz, back in 2008. The glitzy ring's current value, however, is closer to $8.4 million.
Beyoncé and Jay-Z's Secret wedding Ring Tattoo
Beyoncé and Jay-Z are not just powerhouses in the music world; they're deeply committed to each other. A testament to their bond is the matching "IV" tattoos on their ring fingers, symbolizing the number four. Both were born on the 4th—Beyoncé in September and Jay-Z in December. They even chose to wed on April 4, 2008. Beyoncé later tweaked her tattoo to include a hint of "J" for Jay-Z. This simple gesture speaks volumes about their intertwined lives and love.
Common FAQs
Who designed Beyonce's wedding ring?
Lorraine Schwartz, a famous celebrity jeweler, crafted the ring. Schwartz is recognized for designing one-of-a-kind, high-end jewelry for celebrities.
How much did Beyonce engagement ring cost?
The price tag on Beyoncé's breathtaking engagement diamond has been reported to be approximately $5 million.
What is the carat weight of Beyoncé's wedding ring?
Beyoncé's wedding ring features a huge 18-carat emerald-cut diamond. That's almost eighteen times the size of the standard engagement ring.
Do Jay Z and Beyonce Have Matching Wedding Rings?
Instead of getting wedding bands, Beyoncé and Jay Z got matching tattoos on their ring fingers. They each got a tattoo of the Roman numeral for "4" on one of their fingers.
Why doesn't Beyonce wear her engagement ring?
Beyoncé's first concern has always been the safety of her family and that concern has only grown since she became a mother. She added that the theft of Kim Kardashian's jewelry in Paris was a "wake-up call" that led many celebrities to stop displaying such valuables.
What does Beyonce tattoo on her finger mean?
Beyoncé's finger tattoo represents the Roman numeral "IV" (4), signifying important dates like her and Jay-Z's birthdays and their wedding date. The design also subtly incorporates a "J" for Jay-Z
Conclusion
Beyoncé's wedding ring design is a work of art since it exemplifies class, lavishness, and incomparable beauty all at once. Artist Lorraine Schwartz crafted it, and it's dazzling diamonds, ornate setting, and eye-catching centerpiece will turn heads. Although the ring is expensive, it is symbolic of the couple's success and their dedication to one another. Beyoncé's engagement ring is one of the many reasons she is known as "Queen Bey," not just on the red carpet but in everyday life as well.
We are sorry that this post was not useful for you!
Let us improve this post!
Tell us how we can improve this post?