A wedding clutch, one of the most important pieces of jewelry and accessories, may go unnoticed when putting together your full bridal ensemble. Despite the fact that you might not have anticipated the necessity of carrying a clutch on your wedding day, the truth is that you'll probably want to keep a few necessities close at hand.
See also: 19 Stunning Mint Wedding Shoe Ideas For Your Big Day
Having a clutch to hold your phone, house or hotel key, lipstick, credit cards, and ID is essential for touching up, taking pictures, and going to the bar after the reception, but you don't have to carry your complete "emergency kit" around (that's a job for a bridesmaid!).
Why Carry a Bridal Clutch on Your Big Day?
If you plan to continue the celebration after your sparkler send-off, you'll want to make sure your wedding purse is in keeping with your attire. When it comes to luggage, you may be thinking about what kind to bring. As a result, we've limited our list of recommended wedding handbags to a manageable number.
Rose Gold Sequin Clutch
The bride-to-be who is a fan of rose gold will love this dazzling clutch.
Silver Crystal Pearl Beaded Bridal Clutch
This is an excellent pick for the bride, who will look stunning in it! The dazzling rhinestones, meticulously placed, are one of my favorite features.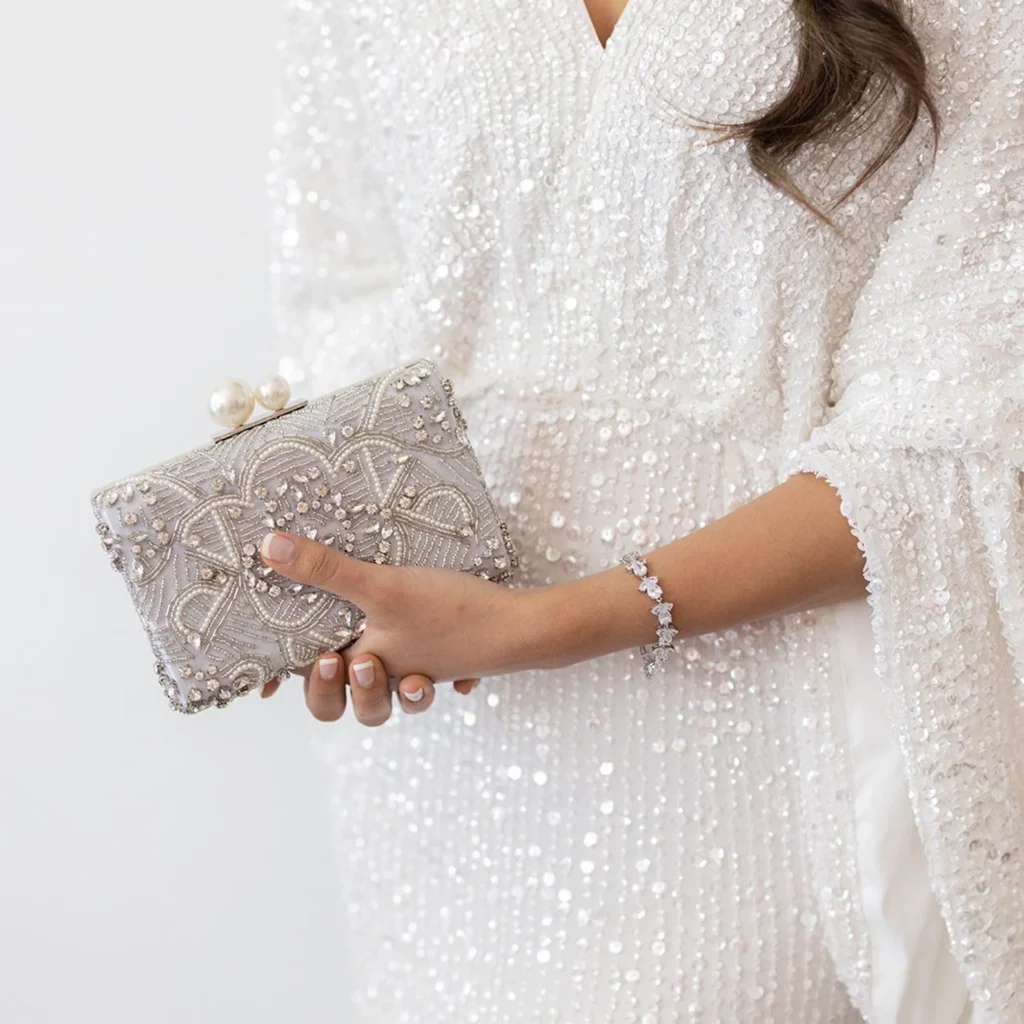 Rose Chiffon Photo Clutch
With its delicate chiffon exterior, this purse is adorned with the most beautiful roses; the interior can be customized with your favorite photo, which will serve as a pleasant little surprise for your friends and family.
You might also like: 40+ Stunning Wedding Nails Perfect For Your Big Day
Bridal Clutch with Feathers and Rhinestones
Due to the fact that it is absolutely stunning, it has earned a spot in our list of the best bridal clutches for 2022. This purse is constructed with blush feathers and sparkling floral rhinestones to give it a festive look.
Happily Ever After Mrs. Clutch
It's truly magnificent! It has an antique appearance. Stunning work on the beads!
Pearl Handle Clutch
If you want a splash of pearls in your bridal clutch, this is one of the best options for you
Custom Beaded Mrs. Clutch
This handmade bag is totally customized with Mrs and your last name, and it is filled with incredible design and needlework that you will not believe your eyes!
Personalized Bridal Clutch
This is adorable! Your name and the word Mrs. are embossed on the front of this custom bridal clutch.
Ivory Photo Clutch
The inside liner of this handmade clutch is customized with a photograph of your choice. Beautiful exterior – there are many different exterior styles to pick from.
Beaded Art Deco Purse
If you're planning a wedding with an art deco theme, this beaded bridal purse is a must.
Custom Acrylic Bridal Clutch
Custom bridal clutch in a box shape that is both adorable and handy. Pick your favorite from MISS2MRS, MRANDMRS, FOREVER, and more trendy names!
Champagne Lace Clutch
A delicate tone of champagne, an abundance of lace, and an elegant silver clasp complete this look.
Bride Straw Purse
This straw bridal clutch with a boho vibe is a lovely bag to have for weddings and honeymoons.
Champagne Floral Organza Wedding Purse
This stunning champagne blossom purse is created of organza ribbon in a delicate design.
White Lace Embroidered Flower Wedding Clutch
Looking for the greatest bridal handbags that can also accommodate your iPhone? Look no further: this clutch is the one! It's both trendy and spacious.
Vegan Leather Foldover Clutches
With a foldover design and your initials, this faux leather (vegan leather) clutch is both comfortable and sturdy. There are a variety of color choices available for these bridal clutches, making them ideal as bridesmaid gifts.
Double-Sided Pearl Clutch Purse
An engraved clutch for the pearl-obsessed bride!
Images via Etsy
Final Thoughts
Bridal clutches, like the rest of a bride's outfit, should be equally as special as the dress. The walk down the aisle may keep your hands busy with a lovely bouquet, but a lovely bridal purse will come in handy at the reception and any other celebrations surrounding the big day. It would be good to have a secure area to keep everything safe and organized. Additionally, having a tube of lipstick or even a mint on hand is always a good idea for touch-ups.