Are you seeking stunning wedding nails for the bride or bridesmaids? Is this the case? If so, you'll enjoy these bridal nail designs because every lady has a wish to have a flawless wedding with his dream boy. Everything about her wedding, from the gown and jewelry to the decor and catering, must be flawless. Nails, on the other hand, are likely to be near the bottom of your to-do list. But today, nail art has become such a crucial component of your clothing that you really need to move it up on your list.
While the obvious things to focus on are the location, food, the dress, and other practical parts of your wedding, sometimes it's wonderful to focus on the small stuff that doesn't possibly mean so much for your guests in the broad picture, but which will make you feel amazing on the day. This includes everything from napkins to hair, makeup, and nails, of course. Although polished and semi-natural bridal manicure designs are the most obvious choice, there are a plethora of other options as well.
Some of my favorite bridal nail designs, suitable for both brides and bridesmaids, are included in the list below. It's possible to buy several of them directly from the nail artist. I wish you luck in your search for the ideal set of wedding nails on your special day. Do check out common questions at the end of the post.
The Best Elegant Wedding Nails For Brides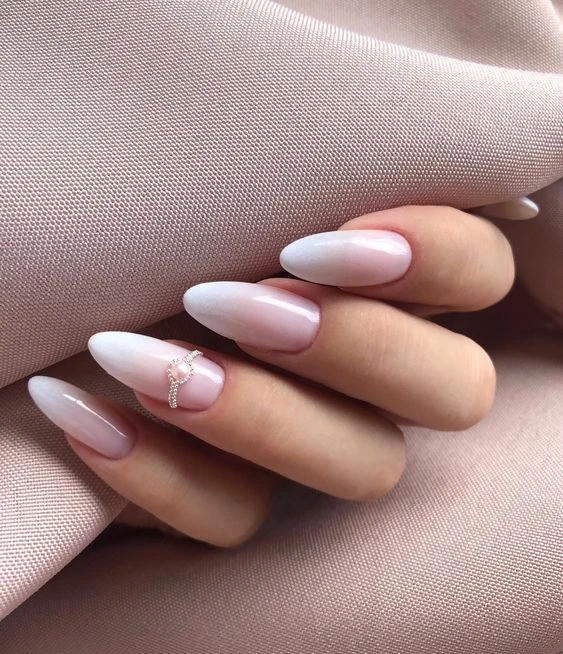 via Etsy /Pinterest/Denisova_Nails/Galichaiaolga/AGlossNail/NailsBySean
Common Questions on Wedding Nails
Which nails are the best for a wedding?
White nails are classic wedding nails and a perfect choice for any sort of wedding. Consider basic all-white nails with one accent nail highlighted in gold. This mix of colors is stunning and elegant, and it would go well with any wedding attire. The wearer will be overjoyed with it.
When should you get your nails done for your wedding?
Before the wedding, when should I get my nails done? We recommend getting your nails done a day or two before your wedding, whether you have an appointment at a nail salon or do them yourself. You risk chipping them if you do them too far ahead of time.
When is the best time to make a reservation for wedding nails?
Expert manicurists recommend that all brides schedule their nail appointments within a week before their wedding functions, or at least four days before the festivities begin.
Are white nails OK for a wedding?
A spotless white polish, regardless of color, screams "wedding." Not only is there a variety of hues to choose from, but any of them looks great with white nail paint.
What should I do with my nails for my wedding?
For the sake of practicality, a shellac gel manicure, SNS manicure, or artificial nails are the ideal options for your wedding day. "A small proportion of individuals still use a conventional polish," Masi explained, "but you don't want to chance to have a chipped nail on your wedding day."
Will acrylics nails grow out in a week?
Acrylic nails are extremely durable and, with proper care, can last for up to two weeks before naturally growing out. Acrylics that are not properly cared for and maintained may lift, chip, or peel before the two-week mark.
Should I paint my nails for my wedding?
It's a good idea to paint your nails at least one to two days before your wedding. Make sure you don't rush getting your wedding gown or attire ready for the big day, and that you don't have any wet polish on your hands while changing into a wedding gown.
How do I get long nails for my wedding?
Increase your Biotin consumption. Stop biting! When life provides you with lemons, utilize them for nail development. Massage with coconut or olive oil. Practice proper maintenance. Applying a base coat is a MUST! Keep an eye on your food, and don't let your nail paint chip.