The holiday warmth and joy during Christmas weddings are unique and something we cherish all year. At Christmastime, brides and grooms opt for more traditional and vintage themes, while New Year's Eve is the time for glitz and glamour. There are so many stunning (and sexy!) wedding dresses to choose from during the holiday season that it can be difficult to settle on just one. To capture the spirit of the season without sacrificing the bride's style, she should choose a wedding dress that is red, green, or white. You can find any number of beautiful wedding dresses that are perfect for a Christmas wedding. Get ready for your Romantic Christmas wedding with these beautiful Wedding Dresses Ideas.
See also: 30+ Unique Christmas Themed Wedding Ideas For 2022 Festive
#1 Christmas Themed Bridal Dresses Ideas
Take into account the holiday vibe of your wedding while selecting your bridal attire. Red, one of the most classic tones for the winter season, is the obvious choice for a Christmas theme wedding. Show off your figure in a striking red dress of any style—simple or lacy, high or low cut, on or off the shoulder. Dresses in various fabrics, from velvet to sequins, feature the characteristic Christmas green or emerald. The bride who wants to sparkle bright like a diamond all day long should try on gold, gray, or silver wedding dresses.
See also: 15 Gorgeous Country Wedding Dresses You'll Love
#2 Christmas Themed Groom Dresses Ideas
When it comes to the groom's attire, a black tuxedo is always a safe decision. Still, he can stand out by choosing something more seasonally appropriate, such as a burgundy or bottle green velvet suit or even a silvery grey suit for a Christmas theme winter wedding. Speaking of accessories, there are so many stunning winter boutonnieres made of feathers, pinecones, vibrant flowers, coniferous branches, and berries that any groom may choose or even create his own.
Like the bride, the bridesmaids should dress in a way that is consistent with the wedding's overall style. Therefore, you should select the most stunning Christmas themed wedding dress for the bridesmaid. It's best to give them lovely shawls that they can use on Christmas Day and beyond, as the weather might get chilly this time of year.
#4 Christmas Flower Girl Wedding Dresses Ideas
Here is the perfect Christmas wedding dress for the flower girl in your life! This beautiful red dress is the ideal Christmas attire because your little girl can wear it all year long. Every girl would adore having something so lovely for a special occasion.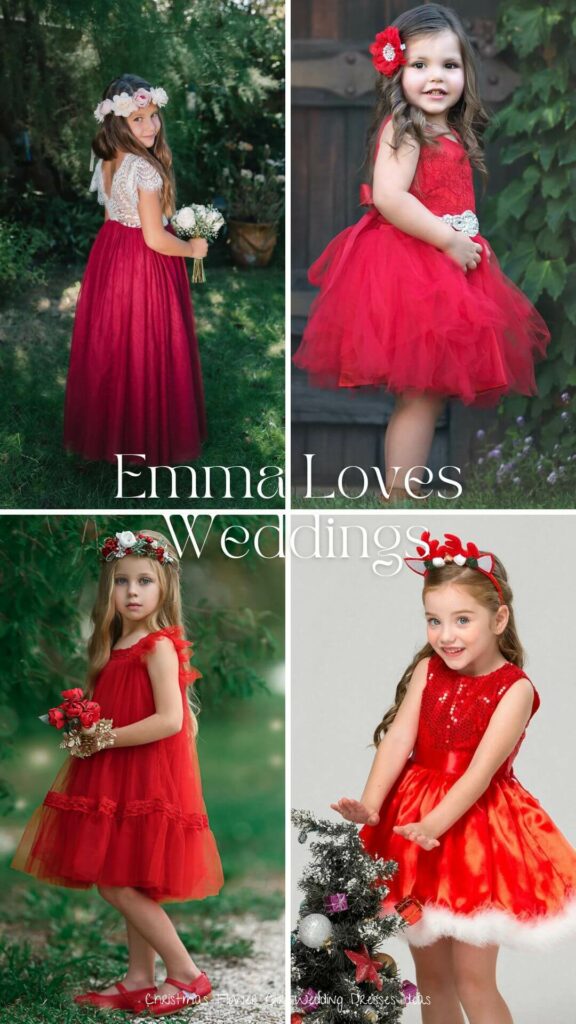 See also: 20 Adorable Flower Girl Dresses for Your Wedding Day
#5 More Christmas Wedding Dresses Ideas To Inspire
Common FAQS On Christmas Wedding Dress Ideas
What color is best to wear at Christmas Wedding?
Gold, silver, and white are popular choices for the traditional Christmas colors of red and green. Gold and its metallic variations are ideal for formal occasions but can be easily toned down for less formal occasions.
What should you not wear to a winter wedding?
Avoid wearing a slip dress or other sleeveless garment unless you also plan to wear a cardigan or jacket over it. Wool is a great option for whatever type of outfit you could need for a winter wedding, from a tuxedo to a less formal suit.
Final Words
That concludes my inspiration for this festive with these Romantic Christmas Wedding Dresses Ideas. In my opinion, the bride should have an elegant bridal jacket or cloak on hand if she becomes cold during the ceremony. Leather jackets are perfect for the edgy bride; faux fur wraps and shawls are stunning, and shearling coats are always in style. I hope these Christmas wedding dresses ideas inspired you as well! See you in the next post!
Images via: KT Merry / Essense Of Australia /Wedding Inspiraci / A Princess Inspired