Every bride wants to look her best on her wedding day and one way to do so is by wearing a show-stopping wedding gown. If you're a member of the LGBTQIA+ community and you're searching for a wedding dress that represents your identity but isn't white, a rainbow wedding dress is a beautiful option. These brides take it to the next level by donning rainbow-hued dresses and the results are breathtaking. So, do something different on your wedding day by walking down the aisle in rainbow wedding gowns.
Rainbow wedding dresses bring a lot of joy to any event, whether you're planning a bright and fun ceremony, need a change of clothes after the ceremony or want a Pride inspired look for your special day. Additionally, they are adaptable to your personal taste, ranging from vintage glamour to a more whimsical vibe.
See also: Best lesbian wedding outfit ideas
Ombre Rainbow Wedding Dress
Ombre rainbow wedding dresses are the perfect choice for brides who want something different for their big day. This style allows brides to express their individuality while maintaining the classic white wedding dress.
If you're planning an unconventional wedding, you can consider using a darker ombré color scheme, such as purple, black, and blue. For brides who don't want to follow tradition, this is a fantastic alternative. You also like the softer look of pastel ombré dresses with ombre wedding nails, which give traditional weddings a feminine, modern twist.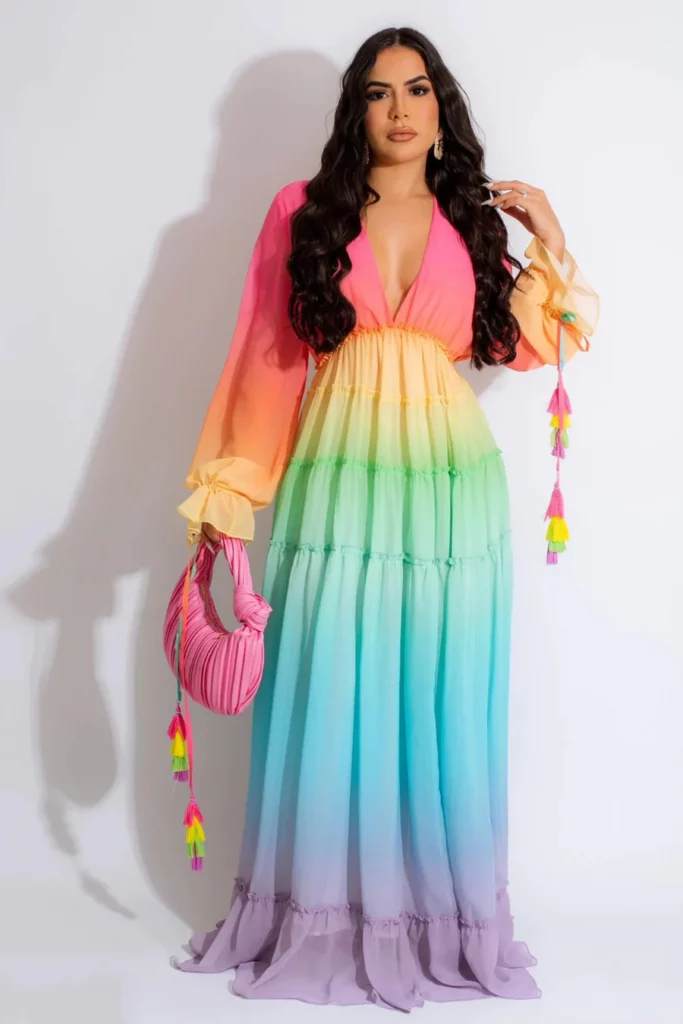 Tulle Rainbow Bridal Dress
A tulle fabric in every hue of the rainbow might not be a smart idea for everyone. They need to be a little bit offbeat, a little bit funny, and definitely a little bit bold. If you're planning on becoming the pride bride, you need to wear this beautiful rainbow tulle wedding gown. Tulle is a versatile fabric that can be seen in anything from wedding dresses to ballet skirts. Fabricated with airy fibers such as silk, nylon, or rayon. Classic rainbow color tulle wedding dresses are great for dancing the night away at the reception because of the length of the skirt and the ease of getting out if something goes wrong.
Pastel Rainbow Wedding Dresses
A pastel rainbow wedding dress is the perfect option for the bride who wants a simple and minimalist dress but still wants to add some color to her special day. We've got the styles you're looking for, whether you want them short or long. This rainbow-colored maxi dress with a splash of color is an ideal example of simple beauty. You'll be the center of attention in this show stopping gown, which features a form-fitting bodice and a voluminous, ruffled skirt.
Short Retro Bridal Rainbow Dress
Brides who want their big day to reflect their individuality can do so by wearing short wedding gowns in a rainbow of colors. After the first dance, many brides decide to change into a minidress since it allows for greater freedom of movement and is more comfortable to wear for the rest of the night.
With just a touch of sparkle, these colorful dresses will turn heads everywhere you go. It's ideal for a carefree elopement or a colorful vintage wedding because of the unconventional pairing of its 1950s-inspired design and ombre pastels which give it a fun, rock 'n' roll edge.
Multicolored Rainbow Wedding Dresses
Color isn't just a visual delight; it's an emotion, a statement. On your big day, why not speak in hues? Let your individuality shine through by making a statement with your wedding attire, whether it's the daring allure of a black wedding dresses or the rainbow wedding dress. Always remember that adding some color will catch people's eyes.
Best Rainbow Bridal Dresses
There's a rainbow waiting for you at the end of every storm. So, on that important day, dress in a way that reflects the rainbow of emotions that has accompanied you thus far. As you walk down the aisle in your dream rainbow bridal dress, you aren't just wearing a garment; you are wearing a tale, glowing with all the colors of your love, hardships, and victories. We hope these beautiful options help you choose the perfect rainbow wedding gown.
Common FAQs
What is a rainbow wedding dress?
The hues red, orange, yellow, green, blue, indigo and violet are all represented in a rainbow wedding dress. It's a great way for brides to express their individuality and love of color while still standing out from the crowd during their wedding, and it's a refreshing change from the standard white or ivory dress.
Are rainbow wedding dresses a new trend?
While multicolored wedding gowns have been worn for thousands of years in many different cultures, the particular "rainbow" style has been more popular recently and is frequently linked to inclusion, LGBTQ+ pride, and individuality.
Can I wear a rainbow dress during the ceremony?
Yes! Whether you plan on saying "I do" in front of hundreds of people or spending the rest of the night on the club circuit, a rainbow wedding dress is perfect for your special day.
Where can I buy a wedding dress with rainbow colors?
Your ideal ensemble may be found at any number of stores. There are a wide variety of unique wedding dresses available on Etsy. You can find so many beautiful wedding dresses with rainbow elements, like rainbow tulle dresses, pastel rainbow dresses, ombre rainbow dresses, multicolored rainbow gowns, and more.
Is a rainbow dress suitable for all wedding themes?
While rainbow wedding dresses are adaptable, their vividness may be better suited to less traditional ceremonies. The most important thing is that the dress is comfortable for the bride and fits with the vibe of the event.
How can I style my rainbow wedding dress?
Keep jewelry simple to allow the dress to take center stage, or use metallic pieces. If you want to create a unified look, use a shoe or flower hue that complements the dress. Don't forget that today is all about you, so feel free to dress to impress.
Conclusion
There is a silent power in hues —a symphony of feelings and recollections woven into each shade. Choosing a rainbow wedding dress is more than simply picking out an outfit; it's also about celebrating love, joy, and one's own uniqueness throughout the spectrum. Just as each hue of the rainbow has its own significance and beauty, so does each stage of your relationship. Let the rainbow of hues you're wearing down the aisle be a symbol of the exciting adventure you're about to embark upon and the bright future you share. Cheers to love that spans the spectrum and shines brighter than the sun!