It's finally time to have some fun! When it comes to wedding preparation, there are a lot of considerations to be made. Making a memorable bachelorette party involves a lot of work, from picking the ideal location to planning an exciting plan. Whatever the case may be, you'll want to make sure that everyone who attends the celebration, from your maid of honor and bridal party to friends and family, is made to feel especially valued by offering a Bachelorette party favor!
Best & Affordable Bachelorette Party Favors Ideas
Show your best friends how much you value them! Give them a favor they can take home and enjoy when they get there rather than something they will just toss away when the weekend is over. It doesn't have to be difficult to come up with unique bachelorette party favors that everyone will enjoy. Our job is to find the best bachelorette party gifts for your guest, so we've done our research. Whether you're looking for personalized mugs or matching hoodies, we've got something for everyone and at an affordable price.
See also: 20+ Unique Bachelorette Party Ideas
1. Bachelorette Fanny Packs
The bride and her besties will love these bachelorette fanny packs! These personalized bags will be a hit for a night on the town or even a getaway with your besties. These will be the cutest addition to your bachelorette festivities! There will be no more worries about misplaced handbags for your young ladies, and they will be grateful to you for this. You can also wear this to match if you don't want to wear sashes or shirts.
2. Heart-Shaped Bachelorette Sunglasses
Are you looking for beach or poolside bachelorette party favors? These fashionable bachelorette sunglasses are ideal for a beach-themed tropical bachelorette weekend or as bachelorette party favors. Whether you're in Cabo or Miami on a girls' trip, you need a smart pair of sunglasses to shield your companions from the sun. The word "babe" is inscribed on these cat-eye heart sunglasses, which are available in either pink or black for the bridal party. To give as a gift to your special guest, choose the white sunnies printed with "bride."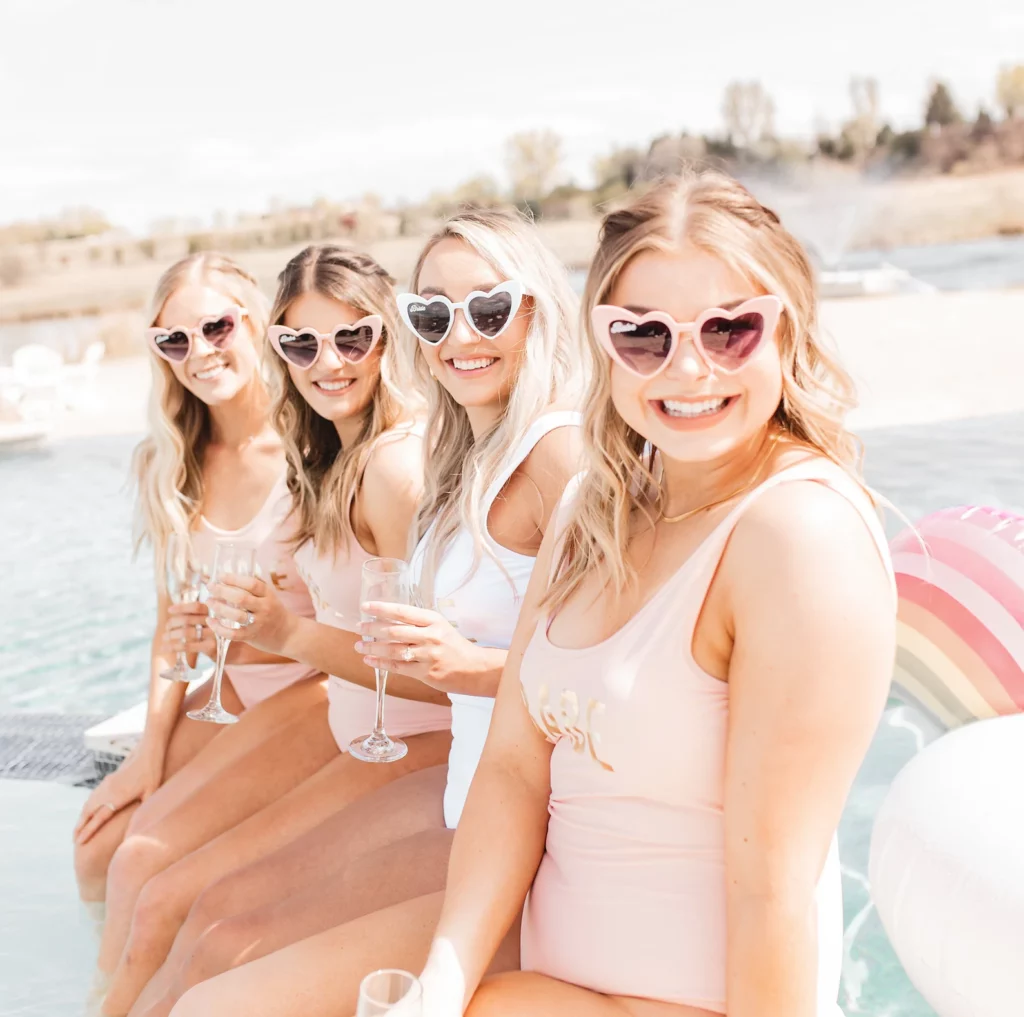 3. Drink Pouches for Her
For bachelorette parties, drinkware is a favorite party favor. Make things more interesting by using these trendy monogrammed pouches in place of the standard wine glasses and travel tumblers. Her name is written in white letters on the outside of each bag, and a flexible peach straw is included. On the beach, at the pool, or wherever else, it's a great bachelorette party favor that's easy to carry about. Your girls will love these custom drink pouches for their bachelorette party favors.
4. Monogram Makeup Bag
Make a fresh beauty bag for each squad individual and personalize it. Personalize each bag with a black, gold, or white name in ten various bag colors. Whatever your plans are, this bag will come in handy for organizing your belongings no matter where you go or how long you stay put. This is the perfect gift for your Bachelorette party favors.
5. Bachelorette Bandanas
These adorable bandanas are perfect for bachelorette party favors. You may personalize each bandana with the name of each of your friends, and you can pick up a white bandana that says "bride" for the honor. For a cowgirl bachelorette party theme, these bandanas are a must-have accessory.
6. Bride & Babe Beanies
Are you and your bridal party planning a ski trip or a winter cabin getaway? Get something warm and fuzzy for your BFFs. Bride and Babe Beanies are a wonderful addition to any winter bachelorette party favor. Bridesmaid Beanies feature a front babe or bride patch, and a soft faux make your "squad" stand out in style! Before a bachelorette party, give these to your bridesmaids and maid of honor so they can be sure to grab some attention.
7. Matching Socks
With matching lovely and comfy socks, the Bachelorette Party will be complete. Anyone would appreciate a pair of soft, fresh socks. Look no further than these lovely socks if you're looking for a simple way to coordinate with your friends for your bachelorette party favors.
8. Bride Tribe Lip Balms
This glossy bride tribe lip balm is a terrific bachelorette party favor. The bridesmaids will enjoy these organic lip balms with shea butter. Consider all the crazy selfies you'll take while applying your lip balms! Each set includes six white lip balm tubes with "BRIDE TRIBE" labels. Match your theme with gold, rose gold, or silver foil.
9. Resin Coaster For Bachelorette Party Favors
Coasters are a great bachelorette party favor because your guests will need somewhere to put their beverages. These lovely resin coasters come with a metallic gold rim and can be engraved with each guest's name.
10. Wedding Cake Scented Candle
The wedding cake will be a key part of the celebration. A rich vanilla frosting and sponge cake-scented candle is the perfect favor for your bachelorette party guests to take home with them when the festivities are over. This bachelorette party favor is easy on the wallet, yet it doesn't look or smell cheap at all (in fact, it smells amazing!).
11. Phone Wallet
Who would have thought that bachelorette party favors could be so adorable? Sticky wallets that attach to the back of phones are a great way to keep your crew's basics organized. ID cards and cash can be stored here (as long as you make sure to stick them on securely).
12. Mini Champagne Bottles
When you're about to get married, there's nothing more exciting than bursting open a bottle of champagne with your best friends. Use the DIY (do-it-yourself) approach to create your own labels for the bachelorette party you are throwing. Putting a knot in the ribbon and tying it over the top of the present might give it a more personal feel.
13. Personalized Classy Mug
Some people aren't interested in drinking for their bachelorette party, which is absolutely great. Even if you're not serving booze at your bachelorette party, it doesn't mean you have to skimp on the fun glassware. These lovely personalized coffee cups are the perfect replacement for can koozies and champagne flutes. A celebration with a garden theme would be an appropriate setting for the gorgeous floral design. Your initial can be adorned with a lovely flower pattern, and your name can be displayed below it in a script font that is a great match. This classy design is perfect for the favors you give out at your bachelorette party.
14. Bachelorette Tank Tops
It's not often that you and your closest friends can look so cute together! You shouldn't pass up the opportunity to wear an I Do Crew uniform, whether you decide to go with personalized shirts or fun tees like the styles that are seen here.
Purchase the cutest Nashville Bachelorette Shirts for your pals. Let's Get Nashty Shirts and a Nashty Bride Shirt are essential items for any bachelorette trip to Nashville. These adorable bachelorette tank tops and bachelorette shirts are available in a range of shirt styles, giving the folks the opportunity to select the shirt type that best complements their own styles.
15. Bride Tribe Hair Ties
These hair ties can be paired with other beauty items or included in your weekend essentials. During your bachelorette party, everyone will have a blast wearing a this with the words "Team Bride" on it. It's hard to think of a better addition to Bachelorette party favors than these adorable BRIDE TRIBE elastic buddy wristbands!
16. Personalized Satin Eye Mask
What about some more budget-friendly suggestions for bachelorette party favors? Embroider each bridesmaid's name on their sleep mask before the big day. Take care to give everyone the rest they need during the hectic bachelorette festivities. Create a custom satin sleep mask for everyone who plans to attend the event.
18. Comfy Slippers
We don't know about you, but if a pair of cozy slippers were included in the party favors at our bachelorette party, we'd be pretty darn happy to see them. It's time to take off your heels and put on your slippers, ladies! These comfy (and glam!) monogrammed slippers are perfect for keeping your besties' toes toasty this winter. To ensure that everyone feels like a true king or queen, have each pair of shoes monogrammed with the individual's first initials written in elegant cursive. It's a great idea for Bachelorette party favors!
19. Personalised Turkish Towel
Are you going to the beach, the pool, or the lake? Include a monogrammed towel in the party favors for the bachelorette party weekend. Your friends will appreciate the plush feel of these Turkish towels, and you won't have to worry about them taking up too much room in their suitcases when they leave. You need only select a color before adding your own personalisation, which may consist of each person's name, their wedding titles, or the location of the bach vacation.
20. Personalised Tote Bags
For beach occasions, tote bags are the ideal bachelorette party favor. Get a monogrammed tote for each person who will be attending the celebration. Provide each person with some sun-related necessities, such as little bottles of sunscreen, matching sunglasses, and beach towels. They can also be used as a gift bag for weekend necessities or other favors.
21. Spa Skin Care Facial Mask
Go all out with the spa theme! A rejuvenating face mask can do wonders for your group's spirit after the bachelorette party has ended. Using this nourishing mask on your face will help you regain your youthful suppleness and leave you with a wonderful glow.
Common FAQ On Best Bachelorette Party Favors
What are the Party favors?
A party favor is a small present/goodie bag given to visitors as a thank you for coming, a memory of the event, or simply to encourage happy times.
Who is responsible for bachelorette party favors?
Despite the fact that it's usual for the bride to give everyone at the bachelorette party a present, it's not required. The maid of honor and the bridesmaids traditionally arrange and pay for all bachelorette festivities, while the bride spends her time preparing for the big day.
Do you know how much money you should spend on bachelorette party favors?
A few wedding-related expenses are almost certainly already on your plate, whether you're the bride-to-be or a close family member. Regardless of who is footing the bill for the party, bachelorette favors should be kept at an affordable rate. When it comes to wedding shower favors and bachelorette goodie bags, the bride or maid of honor may feel more comfortable spending money. To keep everyone's costs reasonable, we recommend keeping to $10-a-piece favors for bridesmaids.
What is the best way to plan a bachelorette party?
When it comes to event preparation, the first thing that has to be decided is where the bachelorette party will take place. Is it going to be a weekend of wine tasting at a winery or a party by the pool? Are you more interested in having a crazy night out on the town or a more relaxing day at the spa? If the event will be held outside of town, be sure to plan for at least two to three days of both scheduled and unscheduled time.
Final Thoughts
Bachelorette party favors make a great impression so they should last a lifetime. When it comes to giving your team some significant swag, there are countless options. You may hand out personalized bachelorette goodie bags at the start or end of the party for starters. Set up a few amusing bachelorette party games and award prizes in the form of favors. Hope now you enjoyed some of the Bachelorette party favors Ideas and how much you should spend on bachelorette party favors.