With its mantra of "less is more," minimalism has become one of the most popular wedding trends. Here are some ideas for obtaining a fresh, modern look with minimalistic and stylish wedding table decor ideas.
If you're on a small budget, inexpensive wedding table decorations may really make a difference; if you have more money, candles, flowers, and favors will be the perfect finishing touches. Because your guests will spend a large chunk of the reception at their table, give it the same attention as the rest of the decor. Consider incorporating complementary and accent colors in your palette and height, light, aroma, and intrigue (but not so high that it prevents people from conversing across the table!)
Wedding Table Colors Ideas
The most common color schemes for minimalist weddings are all-neutrals, all-white, black and white, and white and grey – so if you're thinking about it, give it a try. We don't mind a few splashes of color, as long as they aren't too loud or overpowering. If you're looking for a little sparkle and intrigue on the table, metallic hues are an excellent choice.
Neutral wedding tablescape with white and blush floral arrangements and blush-hued candles in a modern, minimalist style.
A white tablescape with candles and fresh greenery is a wonderful option for a modern table setting.
White candles in candlesticks and exquisite flatware make this a gorgeous neutral wedding tablescape
Grey tablecloth and napkins, white chargers and silverware, grasses in vases, and tall and narrow candles create a lovely minimalist wedding tabletop.
A blush tablecloth, blush florals and foliage, neutral and rust candles, white dishes, and napkins, and gold cutlery create a lovely minimalist wedding tablescape.
A set with neutral dishes, black flatware, candlesticks, and dried blossoms and grasses creates a striking contrast.
Elegant white linens, white dishes with black rims, white florals, and candles create a stylish minimalist wedding decor.
A stylish minimalist and neutral wedding tablescape featuring dried grasses in white vases, white plates, neutral menus, and eye-catching silverware
A strong and edgy minimalist wedding set with white blossoms and neutral linens, black chargers and cutlery, neutral candles of varying sizes, and black chargers and silverware
A lovely minimalist wedding set using a grey tablecloth, a black napkin, white flatware, pillar candles, plates, and menus
Wedding Tablescape Styling Ideas
How should a minimalist wedding tablescape be styled? First and foremost, remember that less is more; this is the principle that should guide your décor. Choose table linens with no prints or patterns, pure color, and preferably a neutral tone. Texture can be added to make the look more intriguing. Choose the wedding centerpieces that will set the tone for the reception. These can be neutral blossoms, foliage, dried flowers and grasses, candle lanterns with white blooms, or even dark flowers for a striking contrast with neutrals for a minimalist wedding.
A bridal centerpiece can sometimes be replaced with an immense overhead floral display, which is quite current right now. Candles are essential for a wedding tablescape, and I recommend neutral pillar candles or tall and thin black or neutral tones for a great simple effect. Choose eye-catching cutlery, such as black or white, rather than gold or silver. Get inspired by more amazing ideas below!
White blossoms, white linens, and menus, as well as candles, make for stunning all-neutral minimalist wedding tablescapes.
An ethereal minimalist wedding set with all-neutral decor with a centerpiece of white florals and foliage in jars
Wedding centerpieces with dried flowers and tall candles in a modern minimalist style on a marble table with gold flatware and candlesticks
Neutral plates, grey napkins, white blossoms, and slim and tall black candles create an attractive minimalist wedding table arrangement.
Dried flowers, candles, and a grey tablecloth make a stunning minimalist wedding tabletop.
All-white minimalist wedding set with candles and foliage to liven things up.
A very simple and minimal wedding set with all white elements, including greenery and white blossoms, tall and thin white candles, and silverware
Featuring neutral plates and textural linens, greenery, blue candles, and acrylic table numbers, a stunning neutral wedding tablescape with a minimalist aesthetic
With black napkins and a white tablecloth, a stylish minimalist wedding tablescape with candle lanterns with blooms and a candle
White dishes and linens, white candleholders, tall and slender black candles, and dried and fresh florals create a stunning minimalist wedding tabletop.
Grey linens, white plates, pink pillar candles, black blossoms and berries, and black silverware create a stunning minimalist wedding table decor.
A pristine white tablecloth, black plates, and grey napkins, neutral florals, and candles create a classy minimalist wedding tabletop.
Crisp white linens, white roses and orchids, white dishes, and black menus create a beautiful minimalist wedding decor.
A delicate minimalist wedding table setting with florals, willow, exquisite linens, and chargers in warm neutrals is chic.
A lovely Scandinavian wedding set featuring white blooms and greenery, white dishes, gold flatware, and amber napkins, as well as floating candles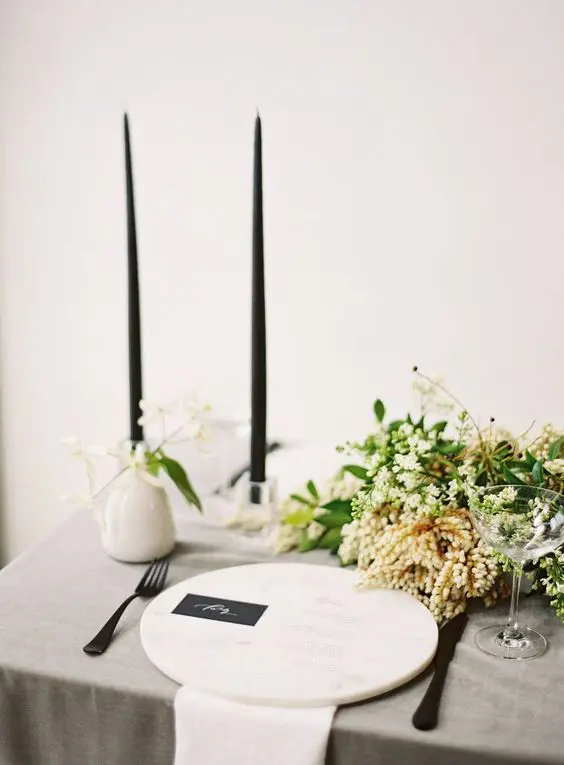 A grey tablecloth and white napkins, a marble charger, black candles, and greenery and white bloom centerpiece create a pretty and elegant minimalist wedding decor.
Grey plates, white vases with dried blossoms, plain flatware, and thin and tall candles make up a neutral minimalist wedding tabletop.
A cool option is a neutral minimalist wedding tablescape with a greenery runner, pristine white all around, and white menus.
White linens, a grey plate, white blossoms in a circular vase, and simple cutlery make up a neutral minimalist wedding table arrangement.
A stylish suggestion is to have a natural and simple wedding table setting with all neutral colors, dried blossoms, berries, and grey candles.
Round white vases, dried branches and blooms, candles, white plates and chargers, and a linen tablecloth make up a minimalist neutral wedding tablescape.
A neutral wedding tablescape featuring a neutral floral centerpiece, neutral dishes, black silverware, candles, and a striped napkin
White linens, grey plates and chargers, candles, gold silverware, and dried blossoms make up a minimalist neutral wedding table decor.
A minimalist ethereal wedding reception venue with a large ceiling floral arrangement, sheer seats, and all white
Bright and minimalist wedding decor with a neutral runner, pink plates, mustard napkins, and gold cutlery, as well as amber glasses
Common Questions
What should I do for the reception decor?
A wedding design consists of many different elements and decorations. Your tabletop design will include centerpieces, linens, and place-setting rentals.
What is the best way for me to decorate a wedding venue?
If you're unsure how to decorate a wedding venue on your own, some simple wedding setup designs can be accomplished as DIY projects. On the other hand, most wedding reception ideas are best left to the professionals to execute.
How can I decorate on a small budget?
If your wedding day budget is restricted, spend it on high-impact design pieces that can be reused or are versatile. For instance, inquire with your florist about building a dramatic floral arch for the wedding ceremony that may also serve as a backdrop for the cake table during the reception.
Where can you find wedding decoration ideas?
Focus more on developing something that reflects your personality. As a beginning point, look to your house, your clothes, and the places you enjoy visiting.
Final Thoughts
Whether you're planning lengthy family-style tables or spread-out rounds, creating a focal point is essential, and your centerpieces are at the forefront of that decision. From the caterer to your favorite cocktail to your escort cards, there are many details to check off the list while arranging your reception. Your reception tables and all the options for beautifying them are vital aspects to consider. Hope this post would help you create some beautiful wedding memories!
Images via Pinterest