There is a great deal of stress involved in planning the ideal marriage proposal. After all, making the commitment to spend the rest of your life with your partner is a major turning point in any relationship.
The way you propose sets the tone for your engagement and becomes a narrative you may tell for years to come. To say that four words are powerful would be an understatement. The following is a collection of some of our favourite examples of real-life proposal stories.
Emily & Chris
After working as a counsellor at a summer camp for the past few years, Emily decided to throw an improv show one evening. He entered to the tune of "Single Ladies" by Beyoncé, a personal favourite of Emily's, thanks to the help of a fellow worker.
Chris proposed to her in front of roughly 300 sixth graders by giving her a ring box he had created out of pages from Harry Potter and the Half-Blood Prince's "The Unbreakable Vow" chapter.
Click here for more marriage proposal ideas.
Susan & Eli
In New York City, after dating for two years, Eli Klein proposed to Susan Nugraha at Sushi Yasuda. Susan explains, "On the way to dinner, we dropped by his mother's apartment, and while I was in the bathroom, he showed her the ring." "He actually proposed to her in her living room after she had persuaded him!" This was all fate, even though it wasn't how Eli had planned it.
On the following day, doctors delivered the devastating news that Eli's mother had terminal cancer. Susan says, "If we could relive that night, there isn't a thing we would change."
Dara & Terrence
Their first date took place in Greece while Terrence was on leave from his yearlong contracting work in Afghanistan. They found a restaurant in Santorini that had a beautiful view of the island, and they sat outside, taking in the sights and imagining what life would be like if they could return to the same place.
According to Dara, "Terrence got down on one knee as the sky turned pink and darkened." Dara enthusiastically said, "yes!" when Terrence added, "So…" Dara explained that she was too shocked to answer right away.
Allie & Dale
Allie and Dale have been dating for about four years, and during that time they took a cruise together with Allie's family. Dale had organized a dogsledding trip for the two of them when they were in Skagway, Alaska, while the rest of the group went on another adventure.
Dale went on the dogsled and requested the musher to pause so he could propose while on it, Allie explains. I couldn't believe it!
Amy & Taylor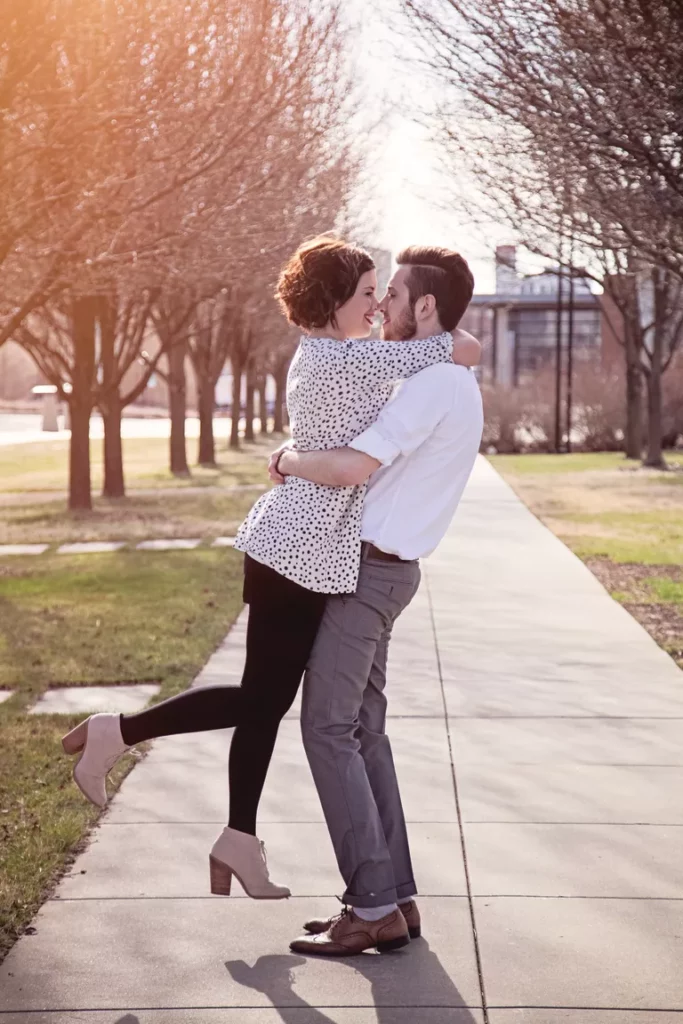 While returning from spending Christmas Eve with their respective families, Taylor admitted he was having problems locating the ideal antique engagement ring. He had her wait in the car as he sprinted up the stairs to their apartment once they returned home. When she entered, he was kneeling in the shape of a heart on the floor, surrounded by sticky notes (an inside joke).
Every one of the notes was handwritten and conveyed his undying affection for her. The two of them spent the following day searching for an engagement ring.
Steph & Tim
In 2012, while out on the town in New York City, Steph Taddei and Tim Goger chance to meet up, and the rest is history. Once they got to know one another, the two became friends, but they soon realized there was more there.
They decided to take a two-week trip to Italy and Greece six years after their first date. "Tim suggested we see the sunset and grab some cocktails at the beach before dinner that evening," Steph explains of the group's journey from Naples to Positano. Nothing makes me happier than a beautiful sunset, therefore his thoughts on the subject came as a pleasant surprise to me.
The two were going to check out of the hotel at precisely 6:00 p.m. in order to see the sunset. Steph came 30 minutes late, oblivious to the proposal, while Time kept her cool. Recalling the moment, Steph says, "As the sun was sinking, we made our way over to a decent position, snapped a couple of photos, and before I could blink my eyes, Tim got down on one knee saying, 'This is the actual reason we're here.'"
Click here for more marriage proposal ideas.
Jessie & Phil
Jessie Cai and Phil Comerford met online, but their romance blossomed in a different way. When Jessie was attempting to sublet Phil's condo for the summer of 2010, she and Phil initially exchanged emails. They finally got engaged after dating for over a decade.
"As a late 30th birthday present, Phil made me a photo book of all the places we've visited together over the past decade," she explains. The book contained ten years' worth of memories, as well as letters from my parents, sister, and friends. On the last page, he asked whether I would be his eternal journey companion.
Julie & Jason
Julie was really downhearted after Jason spent weeks explaining why he couldn't make it to her family for Thanksgiving. A few days before Christmas, Jason and Julie went on a long walk in the woods, and Jason stopped in the middle of a bridge to inform Julie that he would certainly be coming so that they could tell her family in person that they were getting married.
Julie says, "I was so shocked that I fell to the ground and rolled around a little bit." And worried Jason managed to force the engagement ring onto the wrong finger.
Sweeti & Sunay
Sweeti was confused when Sunay stopped the car at a skydiving site on the way to their first camping trip together. She explains, "I was puzzled because he indicated we were taking a detour before setting up tent." In contrast, "I didn't argue because skydiving is one of my favourite activities." When they were ready, Sunay said something about it being the "greatest day of his life" before taking the plunge.
Sweeti saw a huge banner that read "Sweeti, will you marry me?" before she and her tandem instructor made their next jump. When she told me the news, my first thought was, "Is that true for me?"
Tara & Brian
In 2008, Tara and Brian Lehrer met at a party during their second year of college and hit it off right away. Due to the depth of their bond, they continued their conversation much past Tara's 8 AM lesson. The two of them "very much started dating immediately after that," she recalls. As the saying goes, "We've been together ever since."
Brian decided to propose to his girlfriend when they were on their nine-year anniversary trip to Cambodia. Tara had mentioned that she wanted to get more photos of Brian throughout the journey, so when the two of them reached a wooden bridge in the midst of rice patties, he immediately began striking a variety of goofy positions.
When the final shutter clicked, Brian got down on one knee, played their song on his phone, and presented her with a ring. Two hours of happy tears were shed after Tara yelled her answer. Being completely alone at that moment together in that setting made it feel "wonderful, fantastic, and incredible," as Tara puts it.
Natalie & Eric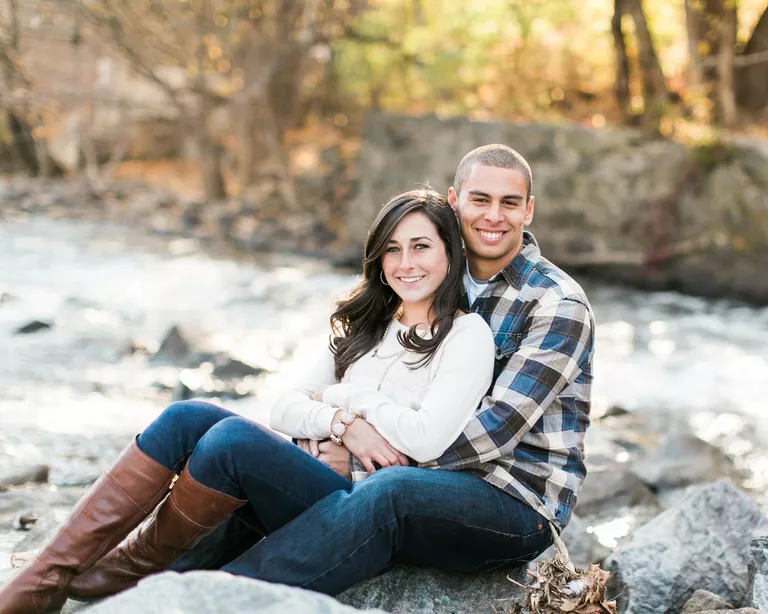 The Chesapeake Bay is one of Natalie and Eric's preferred vacation destinations, so they decided to spend the weekend there crabbing. Eric insisted on taking the boat out one evening just before dusk. Natalie explains that she hopped into the boat with the fishing equipment because she "thought" they were going fishing.
They rounded a bend and saw the little boat with the "Will you marry me?" painted on it. "The only way I knew it was for me was when I turned around and saw Eric grin. While on one knee, he asked me to be his wife "She thinks back on that time. Once they got back to the cabin, Natalie's loved ones were waiting for them with fireworks.
Click here to submit your romantic story to be featured on Emma Loves Weddings' blog!
Robyn & Stephen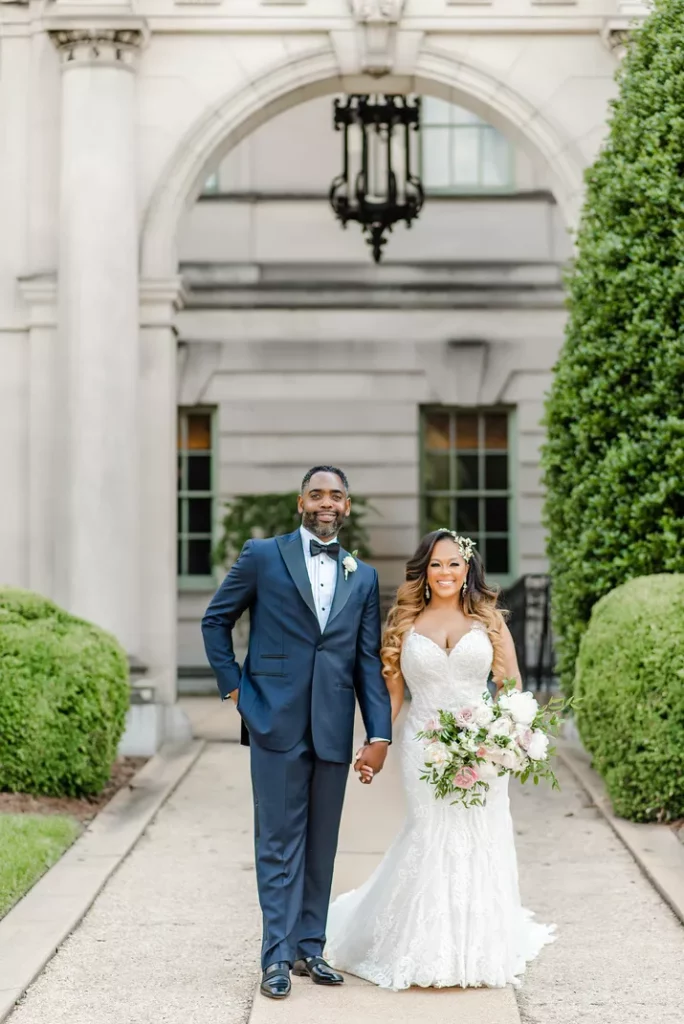 Stephen Ross offered to help Robyn Iglehart with her bags when they were both in the airport's long security checkpoint lines. They shared an aisle seat on the plane and quickly developed feelings for one other that led to romance.
After being apart for over a year and a half, the two finally decided to travel to Italy together. Stephen unexpectedly proposed to Robyn by getting down on one knee.
When Robyn said yes to her boyfriend's proposal, "At Last" by Etta James started playing in the background of the cozy Italian restaurant where they were having their date. The song was a personal favourite of both his late grandma and my late mother. Neither of us could help but regard it as a divine sign of approval.
Meghan & Thomas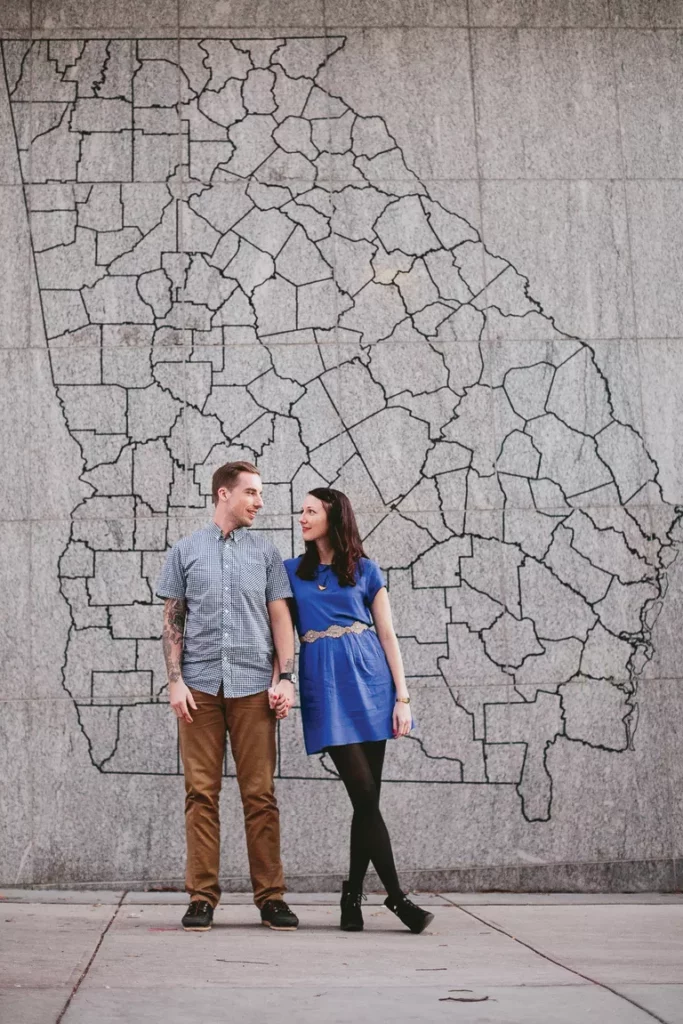 Meghan organized a trip to Puerto Rico to celebrate Thomas's 30th birthday, despite his signals that he wasn't ready to be married anytime soon. After assuring her that he wouldn't propose to her for a long time, on his birthday he proposed to her in their hotel room overlooking the rainforest. "He sent me a letter he wrote about how much he needed me in his life and said that whatever he was afraid of in the future, he knew he could manage it if I was by his side," Meghan adds.
I was a wedding photographer at the time and couldn't believe it when I found out I was going to be the bride. I sobbed for two full hours and called everyone I knew.
Zoe & Sameh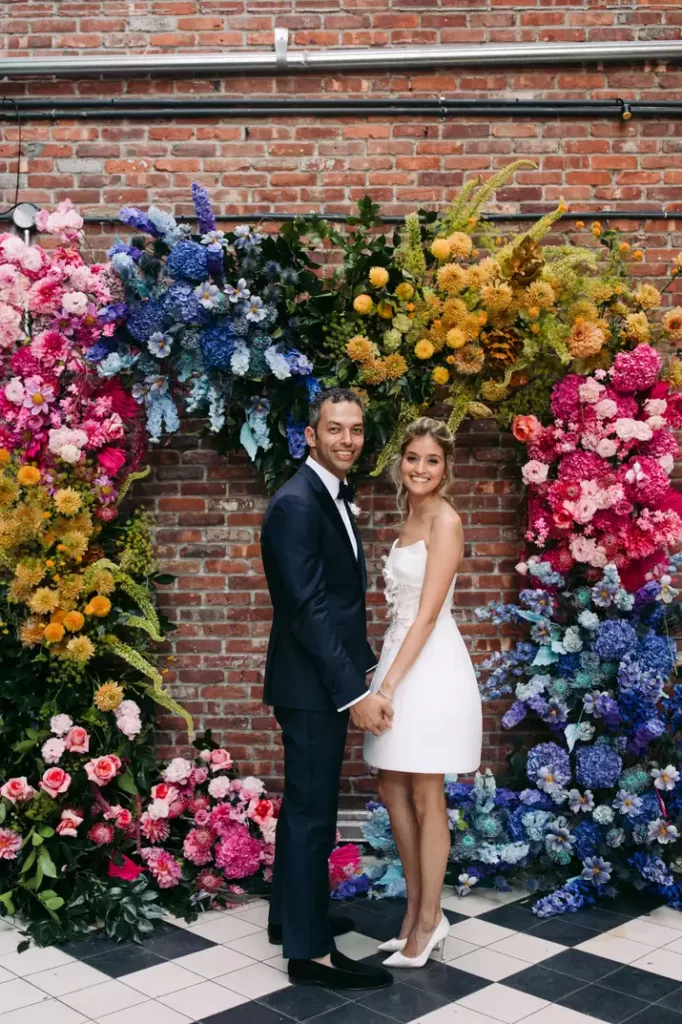 It was a coincidence that brought Zoe Win Shewer and Sameh Elamawy together after she had recently moved to San Francisco for a new job. Zoe reveals, "I was with a friend sipping coffee, and she indicated that her buddy Sameh had shortened her journey and was going to meet us in the park." The rest, as they say, is past.
After waiting three years, Zoe finally took her girls' trip to London. A couple stopped Zoe in Hyde Park and asked her to record a video while she was on her way to see her closest friend. The man dropped down on one knee after Zoe hit the record, so she thought she was seeing someone else's proposal. The pair started singing, and soon everyone else did, too. Then Sameh walked in. Turns out Zoe saw her pop the question. After their successful flash mob, the two decided to get engaged.
Timolin & Eric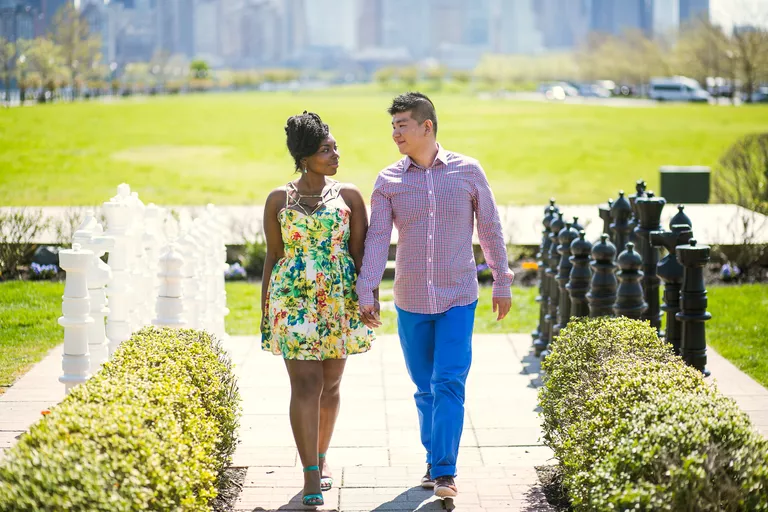 A couple of years ago, Eric and Timolin celebrated Valentine's Day by attending an improv show together. Because of his stage fear, Timolin says, "I kind of slurred my way through my list." According to her, "when it was Eric's time, he started listing all these lovely things about me: how gorgeous I am inside and out and how lucky he is to have me in his life." Eric proposed to Timolin out of the blue by dropping to one knee. "To this day, I enjoy watching the video that one of the cast members filmed and laughing at how bewildered I was," Timolin says.
Alicia & Alvaro
After meeting Alvaro Sierra Lopez for the first time at a Halloween party in 2013, Alicia Cabra immediately fell in love with him. Alicia held this attraction for Alvaro for about six months before they began dating. Alicia recalls, "We fell in love in May of 2014, around the time of the Champions League final." After dating for some time, the pair took a trip from Madrid to Paris, where they climbed to the top of Sacré Coeur to take in the sights. Alicia says, "There was a boy playing the guitar, and there was a tremendous crowd surrounding him." While playing "Pretty Woman," Alvaro grabbed my hand and got down on his knees to propose.
Final Thoughts
There's more to proposing marriage than dropping down on one knee and whipping out the ring you spent two months' income on. An amazing proposal should include a deliberate blend of romantic and intimate elements to show your loved one how much you care about them and how much you want to spend the rest of your lives with them as husband and wife.
Click here to submit your romantic story to be featured on Emma Loves Weddings' blog!