Are you planning for a wedding on a budget and looking for cheap appetizers ideas? A delicious food bar is one of the wedding's greatest delights for vegan and non vegan guests, therefore it will help you impress and please your guests. Here are some fresh, creative, and delicious wedding appetizers ideas on a budget for any taste and wedding theme!
What is best for the Wedding Appetizers?
Vegetables and fruits are, of course, at the top of the list if your wedding is in the summer. But don't forget to consider your wedding theme, and guest dietary requirements. If you're having a beach or seaside wedding, include seafood and lots of seafood. Do you want to cook a quick appetizer? Burgers are your best option! Real little hamburgers or pizzas and a mug of beer would astound and impress your guests! Thinking about adding rustic wedding cakes to the menu?
If you're looking for something more elegant for the wedding menu, tarts or bruschettas are also a terrific option. Is it a summer wedding? Serve beautiful veggie and berry appetizers to your refresh your guests – or simply add blackberries, raspberries, strawberries, or some fresh fruit to the appetizers. I think melon with goat cheese and blackberries or ham with peaches are both delicious and elegant options for wedding appetizers.
Wedding Appetizers for Non Vegan
Fresh vegetables or fruit can be used as the base for non-vegan wedding appetizers, which can include grilled shrimps, smoked salmon, smoked pork, or bacon. Add some smoked meat to your Caprese salad and experiment with different kinds of meatballs, sauces, and spring onion and sesame seeds. An Italian classic appetizer of peaches or melons, prosciutto, with blackberries on top is a popular and delectable appetizer option (you may skip them if you want).
Scallops, shrimps, caviar, and other types of seafood can be served as an appetizer at a beach wedding or a coastal wedding where you enjoy seafood (not so much cheap though!). Seafood allergies are becoming more commonplace, so keep that in mind when planning your wedding menus. Be mindful of the fact that a summer wedding entails hot temperatures, and freshness is always a crowd-pleaser! To get your creative juices flowing, have a look at the examples provided below.
FREE E-book on Wedding Tips & Tricks
We've included some fantastic tips to help you save money and plan your wedding day.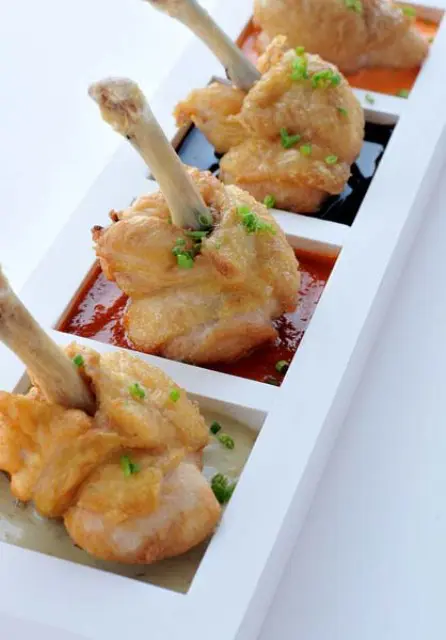 Advertisement